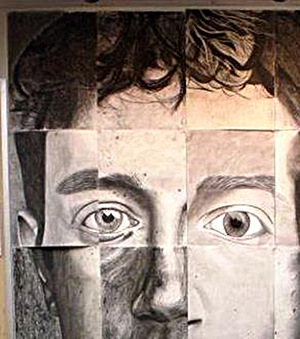 One artwork created by several students sets the theme for Lone Star College-Kingwood's latest art exhibit.
"Face It" consists of drawings by art students from 2007-2013. Each work is a composite drawing created by a number of students in one class. The process requires a large portrait of a person, famous or unknown, in either color or black and white, which is divided up according to the number of students.
"Each student receives a section, either by picking one small section of an image from a hat, or choosing a section, like the hair or clothing," said Kris Larson, gallery director. "This small section is then enlarged to 18"x18" or 18"x24". Students are not allowed to know the identity of the person that they are drawing."
"Face It" artwork will be on display in the college's Fine Arts Gallery Nov. 20-Dec. 17. A reception is on Nov. 21 from 12-2 p.m. Varied renderings by each student and the choice of media creates a wide-range of personalized marks, lines, and surface characteristics which become uniquely recognizable. Each part contributes to the whole, so each student makes a concerted effort to do well. The class critiques the finished work and comments on areas that could be improved in order to create a more unified whole.
"Curiosity and excitement builds with each completed section," said Mari Omori, art professor. "Only when all drawings are completed and assembled on a wall is the final image revealed."
Images in the show were found in either fashion magazines or newspapers from Time Magazine and The New York Times. These images are often created by professional photographers. The degree to which the images are cropped, allows for the surface of the face to be experienced as abstract shapes or landscapes. This adds insight into the creative process of making drawings.
"At the end of each class drawing, there is a great sense of satisfaction and accomplishment expressed by the students," Omori said. "The skills developed and rewards found in teamwork and collaboration can contribute to personal development, communication skills, and negotiations."
LSC-Kingwood's Fine Arts Gallery, located in the Performing Arts Center, is open Monday-Thursday from 11 a.m.-5 p.m. For more information on "Face It", call 281-312-1534 or email kc.artgallery@LoneStar.edu.
Register now for credit classes online through myLoneStar. Classes are offered days, evenings, or weekends in traditional, Internet, video, TV and independent study formats. For more information on how to register online, visit www.lonestar.edu/registration.
For general information about Lone Star College-Kingwood, call 281.312.1600 or visit http://lonestar.edu/kingwood.htm.
Lone Star College System has been opening doors to a better community for 40 years. Founded in 1973, LSCS remains steadfast in its commitment to student success and credential completion. Today, with 78,000 students in credit classes, and a total enrollment of more than 90,000, Lone Star College System is the largest institution of higher education in the Houston area and the fastest-growing community college system in the nation. Dr. Richard Carpenter is the chancellor of LSCS, which consists of six colleges including LSC-CyFair, LSC-Kingwood, LSC-Montgomery, LSC-North Harris, LSC-Tomball and LSC-University Park, five centers, LSC-University Center at Montgomery, LSC-University Center at University Park, Lone Star Corporate College, and LSC-Online. To learn more visit LoneStar.edu.
###