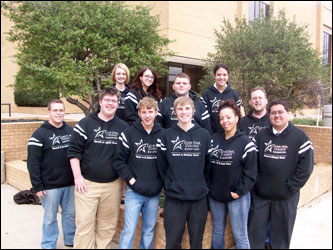 Students in LSC-Kingwood's Forensics team have proven themselves worthy to compete with the nation's best forensics teams.
LSC-Kingwood was named the #2 Community College in the Nation at the American Forensics Association College and University National Championship. In order to qualify to compete at this tournament, students must be rated in the top ten percent of students competing nationwide from both two-year colleges and four-year universities.
"It is very rare for a community college student to even qualify to compete, and this year we had three students who did just that," says Collier Patton, associate professor of speech communications and team leader.
Holly Burns, Cody Hensarling, and Fallon Hopper all qualified and competed at the tournament. Hensarling placed 13th in the nation in Extemporaneous Speaking and 7th in the nation in Impromptu Speaking. His accomplishment, coupled with the points earned by his teammates, earned LSC-Kingwood that outstanding #2 rating.
Patton says he is extremely proud of these students. "I have been blessed this year to work with such dedicated and hard-working students. Not only do they perform with consistent excellence, they also do their best to represent this college as the outstanding institution that it is."
Hensarling also distinguished himself at the Phi Rho Pi Community College Championship, winning the gold medal in both Extemporaneous Speaking and Speech to Entertain.
What is forensics? Forensics is competitive speaking, debating and interpretation of literature. Students in forensics learn to develop and strengthen their speaking skills. The LSC-Kingwood forensics team is part of an academic program that emphasizes all three major areas of forensic speech: public speaking, oral interpretation, and debate.
"As opposed to the students at the four-year universities, who often have high school speech and debate experience, the vast majority of our students enter our program with absolutely no previous experience," says Patton.
Being a part of the forensics team allows students to build important life skills like poise, confidence and the ability to handle pressure.
Chad Mossman says a former team member suggested he join the forensics team to build his speaking skills for his future business degree. "It's important to be able to articulate your thoughts and ideas in business and in life," he says.
"Participation in forensics provides the students with excellent skills they can use in their future lives. Organization, research, presentation, writing, and many other life skills are learned," says Patton.
Hopper says her experience with the forensics team has been amazing. "I could never get up in front of people and talk before, now I don't care how many people are in the room. It's not anything like I expected, but I love it."
In addition, students gain exposure at other institutions. Many students earn transfer scholarships through this exposure.
Burns and Hensarling have both earned a full speech and debate scholarship to attend McNeese State University. They will graduate from LSC-Kingwood in the spring and move to Louisiana over the summer. Hopper will follow them to McNeese the following year, also on a speech and debate scholarship.
"I love my teammates and I'm happy I get to stay with them after I leave Kingwood," she says.
Other accomplishments by the team this year include, winning 2nd place at the Texas Community College Speech and Theatre Association State Championship and 2nd place at the Phi Rho Pi Regional Championship.
Joana Abad, Alicia Adams, Amanda Behan, Nick Breaux, Holly Burns, Nathan Byrd, Anthony Carmona, Cassandra Champagne, Kelsie Copeland, Jared Durtschi, Cody Hensarling, Ursula Hinojosa, Fallon Hopper, Matt McKenzie, Joe Moody, Chad Mossman, Tylor Nunn, Victoria Reyes, Heather Smith, Jennifer Sobel, Jeremy Trepaginer, Brittany Trice, Fred Verhine and Emily Vollmer made up the 2007-2008 Forensics (Speech and Debate) team.
Any LSC-Kingwood student may participate on the forensics team and scholarships are available for participation in forensics. For more information about the Forensics team contact associate professor Patton at 281-312-1764.
Register today for Summer Term I (June 1-July 7), Summer Term II (July 9-Aug. 13) and Fall (Aug. 24-Dec. 13) credit classes. Students can register in one of three ways: phone, online or on campus. Classes are offered days, evenings, or weekends in traditional, Internet, video, TV and independent study formats. Current students can register by telephone at 281-519-6625. Former and current students can register online at Kingwood.LoneStar.edu/registration.
For general information about Lone Star College-Kingwood, call 281-312-1600 or visit our Web site at Kingwood.LoneStar.edu.
Lone Star College System consists of five colleges, including Cy-Fair, Kingwood, Montgomery, North Harris, and Tomball, six centers and the Lone Star College-University Center. With over 50,000 students, it is the largest college system in the Houston area, and third largest community college district in Texas.