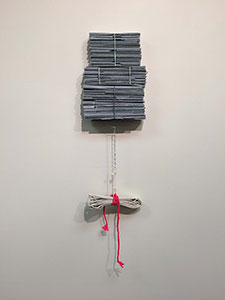 "Hammer Lane" is one of many pieces by visual artist Delaney Smith. This piece and her other works are featured in the "In My Back Pocket" art exhibit at LSC-Kingwood.
The art gallery invites the community to one of its summer exhibits, "In My Back Pocket", which will run through June 28. This show features works by visual artist Delaney Smith. At the artist reception, June 21 at 11 a.m., attendees will get to meet the artist as she discusses how she developed the show's title and her new work.
"In the exhibit, art lovers will see how Smith explores unusual pairings of materials and binding techniques to create her works," said Kris Larson, fine arts gallery director. "At the reception, Smith will talk about how she employs handmade paper and natural dyes to make artist books."
According to the artist, works created for "In My Back Pocket" were born during commutes between The Woodlands and Houston. The pieces were created with naturally dyed fabric and handmade paper with variations of pulp content combined with steel that she cut and suspended. Smith's bio states she primarily works with those materials to create sculptures and interactive books. With a focus on aligning process and inherent qualities of material, she explores the ideas of accumulation and transformation through repetition.
"I began to notice, during the commutes, how loads were carried on the beds of trucks. The craft of organizing and securing materials to serve a function was not lost on me," Smith said. "I started to see the loads as a metaphor for the way we carry theories, goals, preconceptions, and expectations through life."
Smith's background is in paper and bookmaking. For a few years, she made soft furnishings and curtains as a seamstress. The materials in these artworks include handmade paper, deteriorating curtains, sewing notions, fabric scraps–all accumulated from personal experiences and events.
"'In My Back Pocket' is trucker lingo for a place you have in the past, a place that is behind you, which points to these significant materials," she said.
Smith earned a Bachelor of Fine Arts Degree in Graphic Communications from the University of Southern Mississippi in 2007 and a Master of Fine Arts Degree in Fibers from the University of North Texas in 2013. Her work is part of the permanent collection at Texas Women's State University and she is a featured artist at Hunter Gather Project in Houston.
The LSC-Kingwood's Fine Arts Gallery is located in the Performing Arts Center, room 114. The gallery is open Monday through Thursday from 11 a.m.- 5 p.m., and closed on weekends. All gallery events are free and open to the public. For more information call 281-312-1534 or visit the gallery website at www.LoneStar.edu/arts-kingwood.
Register now for credit classes online through myLoneStar. Classes are offered days, evenings, or weekends in traditional, Internet, video, TV and independent study formats. For more information on how to register online, visit www.lonestar.edu/registration.
For general information about Lone Star College-Kingwood, call 281.312.1600 or visit http://lonestar.edu/kingwood.htm
Known for its leadership, innovation and steadfast commitment to student success, Lone Star College provides high-quality academic transfer and workforce education/career training programs to more than 83,000 credit students each semester, and a total enrollment of 95,000 students. LSC is training tomorrow's workforce today and redefining the community college experience to promote student success and economic prosperity. Stephen C. Head, Ph.D., is the chancellor of LSC, the largest institution of higher education in the Houston area, which consists of six colleges, eight centers, two university centers, Lone Star Corporate College and LSC-Online. To learn more visit LoneStar.edu.
###