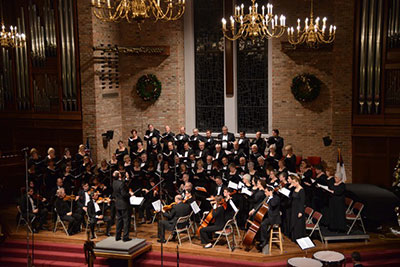 Kingwood Chorale and Chamber Orchestra (KCCO) presents "Calm After the Storm: Songs of Hope and Healing" on Saturday, Nov. 18 at 7:30 p.m. at First Presbyterian Church of Kingwood and on Sunday, Nov. 19 at 7:00 p.m. at Atascocita United Methodist Church. The concerts will be free.
Life for the Lake Houston community drastically changed after Hurricane Harvey. For 300,000 or more residents near the Lake Houston and San Jacinto rivers, devastating floods damaged homes, businesses, and roads. In response to the extreme weather events that everyone experienced, the KCCO will open its 29th season with a special night of free music, stories, and media entitled, "Calm After the Storm: Songs of Hope and Healing" will aid in bringing healing and peace back to the community.
"In times like these, music can comfort and calm people like nothing else," said Dr. Todd Miller, KCCO artistic director and conductor. "Music can also help us deal with pain and loss in a very cathartic way, and I felt compelled to present music from the Chorale that speaks to the human condition of grief, loss, and triumph in the hard times in life."
A program of French choral masterworks had been planned to open the season, but the KCCO changed course to focus on music that will more directly relate to what this community has recently experienced. Several of the Kingwood Chorale's 80 members had homes and businesses flooded, yet they have found that singing in the community chorus aids their recovery efforts.
"After you come to grips with the tremendous financial loss, and thanked your family and friends for spending days 'mucking' out your house, you receive a wonderful rush of relief just being part of the group singing beautiful music," said Elaine Morrison, Chorale singer and LSC-Kingwood continuing education student. "It creates such an impact that some of the lyrics bring tears to your eyes - your mind is never completely away from the water memories."
Community members who were affected by the storm are asked to share their stories. Some will be used in the concert, which will combine music, storytelling and media (photos and video) to tell the true story of a community that came together in the midst of tragedy and loss.
To submit photos, video, or a written story, email Dr. Miller at todd.r.miller@lonestar.edu. If your files are too big, a Dropbox exchange will be used.
The First Presbyterian Church of Kingwood is located at 5520 Kingwood Drive. For more information, visit www.lakehoustonmusicalarts.org.
Register now for credit classes online through myLoneStar. Classes are offered days, evenings, or weekends in traditional and online formats. For more information on how to register online, visit www.lonestar.edu/registration.
For general information about Lone Star College-Kingwood, call 281.312.1600 or visit http://lonestar.edu/kingwood.htm
Lone Star College offers high-quality, low-cost academic transfer and career training education to 97,000 students each semester. LSC is training tomorrow's workforce today and redefining the community college experience to support student success. Stephen C. Head, Ph.D., serves as chancellor of LSC, the largest institution of higher education in the Houston area with an annual economic impact of $3.1 billion. LSC consists of six colleges, eight centers, two university centers, Lone Star Corporate College and LSC-Online. To learn more visit LoneStar.edu.
###