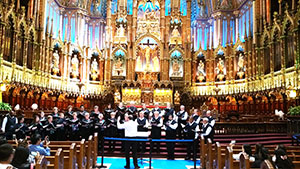 The Kingwood Chorale, LSC-Kingwood Concert Choir and the chancel choir of First Presbyterian Church of Kingwood, performed several concerts of American music in Eastern Canada.
The choirs associated with Lone Star College-Kingwood have a history of touring various places in the state and around the world.
In June, the Kingwood Chorale, along with select members of the LSC-Kingwood Concert Choir and the chancel choir of First Presbyterian Church of Kingwood, travelled to Eastern Canada to present several concerts of American music to standing ovations.  The Kingwood Chorale was accompanied by Houston composer and pianist John Cornelius, whose choral works were premiered in Canada.  Also, featured instrumentalist Aaron Martinez, LSC-Kingwood faculty, accompanied the choir as he played the clarinet, saxophone and flute.
The choir tour began in Ottawa, where the Kingwood Chorale sang at the Canadian War Museum and was the featured choir at St. Peter's Lutheran Church in the downtown government district.  Next, the choir travelled to Québec City, where they sang a midday concert in the incredible acoustic environment of the famous Shrine of St. Anne de Beaupré cathedral church on the coast of the St. Lawrence River.
"This was one of the most incredible experiences of my life," said Andrew Lynch, a LSC-Kingwood music student. "I've never travelled out of the country before, and to be able to sing music together in amazing structures, is something I will never forget!"
A highlight of the tour was a joint choral concert with the French-Canadian Chorus "Les Rhapsodes" in the Notre Dame Church of Québec City.  Each choir sang separately in French and English, and then joined forces to sing a French work and an African -American gospel piece.
"The audience erupted with emotional praise for the combined efforts of the two choirs, and new friends were made as a result of this cultural exchange!" said Dr. Todd Miller, faculty at LSC-Kingwood.
The final city on the nine-day tour was Montreal, where the choir sang at two famous churches. The first concert was presented at the gorgeous Notre Dame Basilica in downtown Montreal. With its famous blue ceiling, the choir's unique repertoire of American sacred and folk music was a hit with the audience.
"When the concert ended the crowd gave a standing ovation, which caused a basilica worker to exclaim, 'Wow!' That has never happened here before!" Miller said.
The final concert was at the famous L'Oratoire St. Joseph Church, located on Mount Royal. The choir participated in an English mass presided over by a bishop visiting from India before presenting a concert.
The Kingwood Chorale, beginning its 27th season, will present Mozart's Requiem with a professional orchestra on Nov. 21 at 7:30 p.m. at Strawbridge Methodist Church. For tickets and more information, visit www.LHMAS.org.   Anyone interested in singing in a choral ensemble associated with the college, contact Dr. Todd Miller at todd.r.miller@lonestar.edu to schedule an audition.
Register now for credit classes online through myLoneStar.  Classes are offered days, evenings, or weekends in traditional, Internet, video, TV and independent study formats. For more information on how to register online, visit www.lonestar.edu/registration.
For general information about Lone Star College-Kingwood, call 281.312.1600 or visit http://lonestar.edu/kingwood.htm.
Lone Star College System has been opening doors to a better community for 40 years. Founded in 1973, LSCS remains steadfast in its commitment to student success and credential completion. Today, with 78,000 students in credit classes, and a total enrollment of more than 90,000, Lone Star College System is the largest institution of higher education in the Houston area and the fastest-growing community college system in the nation. Dr. Stephen C. Head is the chancellor of LSCS, which consists of six colleges including LSC-CyFair, LSC-Kingwood, LSC-Montgomery, LSC-North Harris, LSC-Tomball and LSC-University Park, five centers, LSC-University Center at Montgomery, LSC-University Center at University Park, Lone Star Corporate College, and LSC-Online. To learn more visit LoneStar.edu.
###