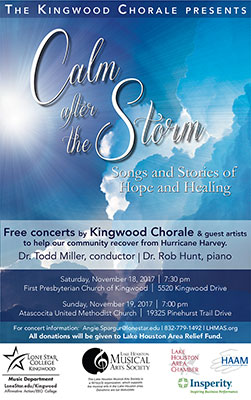 To ease the shattered nerves and calm the bruised spirit left by Hurricane Harvey, the Kingwood Chorale invites the community to a two-night event, "Calm after the Storm: Songs and Stories of Hope and Healing."
The free concert will feature the chorus and soloists with an array of healing melodies. It will be held on Nov. 18 at 7:30 p.m. at the First Presbyterian Church of Kingwood and on Nov. 19 at 7 p.m. at the Atascocita Methodist Church.
"Classical music is one of those wonderful and strange things about life because it can set a mood and speak to us without using any words. Sometimes the mood is peaceful and serene. Other times, it conjures up the image of a storm," said Dr. David Ragsdale, chorale performer. "Considering the tempestuous times that the Lake Houston area experienced over the last month, the Kingwood Chorale now wants to evoke just the opposite emotions. Even though the storms have passed, the physical damage remains, as do the psychological disturbance to our sense of safety and comfort."
The chorale's "Calm after the Storm: Songs and Stories of Hope and Healing," will feature cathartic selections such as "Even When God is Silent" and two Requiem excerpts by Gilkyson and Mozart. The performance will also capture a sense of hope and renewal in songs such as "Light of a Clear Blue Morning" and "Springs in the Desert."
"I felt compelled to offer a concert that spoke to the human condition of grief, loss, and triumph in the hard times of life. Music can offer healing like almost nothing else can," said Dr. Todd Miller, chorale conductor.
"Calm after the Storm: Songs and Stories of Hope and Healing" will be intermixed with comments from local residents who have been affected by the flooding and destruction. Admission is free, but all monetary contributions will go toward hurricane relief.
The First Presbyterian Church of Kingwood is located at 5520 Kingwood Drive. The Atascocita Methodist Church is located at 19325 Pinehurst Trail. For more information, email Angie.Spargur@LoneStar.edu, call 832-779-1492, or visit www.lhmas.org.
###
The Kingwood Chorale invites the community to its free, two-night performance of "Calm after the Storm: Songs and Stories of Hope and Healing."