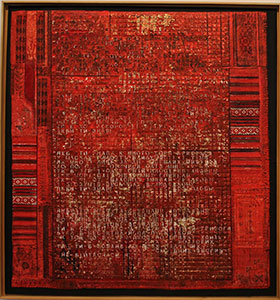 Lydia Bodnar-Balahutrak's, "If You Had Only Known, embroidery, wood - 67.5 X 62.5 inches, 2014", is one of many pieces that will be on exhibit at LSC-Kingwood Nov. 2, 2015-Jan. 4, 2016.
The community is invited to see a glimpse of Eastern European history at Lydia Bodnar-Balahutrak's art show, "Dialogues". The exhibition will take place at Lone Star College-Kingwood Nov. 2, 2015 - Jan. 4, 2016.
"Dialogues" underscores the artist's work as both a visual documentary of pivotal world events - particularly in Ukraine - and an ongoing study of the nature of language and behavior. More than 20 of her mixed media pieces will be on display in LSC-Kingwood's Fine Arts Gallery.
A reception for the artist and a gallery talk with refreshments is Nov. 5 at 12 p.m. in the gallery.  On Dec. 3 at 7 p.m. in the Performing Arts Center (PAC), Room 125, Bodnar-Balahutrak will be the guest speaker for the "Humanities and Democracy" Lecture Series.
"During the exhibit, the gallery is also hosting workshops and gallery tours for middle and high school students coordinated by Stacia Gower, visual arts director at Humble ISD," said Kristine Larson, LSC-Kingwood art gallery director.
Bodnar-Balahutrak, an artist based in Houston, explores identity and cultural ties, initiating a discourse about one's place in the world by piecing together fragments of text, narrative and figuration.  Her explorations begin with newspaper articles and photos, collected mementos, and keepsakes, arranged in extensive collages over which she applies charcoal, paint and wax. The process of layering words and images reflects the artist's deep interest in how experiences submerge, resurface and unravel over time.
"This is an opportunity for community members and young artists to experience works of art in a variety of media, done with great skill," Larson said.
In the spring of 1991, Bodnar-Balahutrak was awarded a grant from International Research and Exchanges (IREX) to travel to her ancestral homeland.  She made additional trips to Ukraine and Eastern Europe including a visit to the Chornobyl Zone in 1996. The images of roots breaking through concrete and vines growing over wreckage have remained recurring visual motifs for the artist.  In her most recent small works on paper, animals enact human dramas in fable-like parables.
Bodnar-Balahutrak was born and raised in Cleveland; her parents emigrated from Ukraine after World War II.  She earned a Bachelor of Science degree in art education from Kent State University in Kent, Ohio, and a Master of Fine Arts degree in painting from George Washington University in Washington, D. C., in conjunction with the Corcoran School of Art.  Currently, she is on the studio faculty of the Glassell School of Art at The Museum of Fine Arts, Houston.
Bodnar-Balahutrak's art has been exhibited in numerous national and international museums and galleries throughout the years. A monograph of her work was published in 2005.  In 2012, the Pearl Fincher Museum of Fine Arts, Texas presented a solo show of her work selected from the past 20 years. Her most recent 2015 solo show, "Nevermore" was featured at UIA in the historic Fletcher-Sinclair mansion in New York City. Her work is included in the permanent collections of Oxford University in England, Museo D'Arte Dell'Universita Cattholica in Rome, Hoyt Institute of Fine Arts, University of Houston and the Art Museum of South Texas.
LSC-Kingwood's Fine Arts Gallery is located in PAC 114. The gallery is open Monday through Thursday from 11 a.m.-5 p.m., and closed on weekends. All gallery events are free and open to the public. For more information call 281-312-1534 or visit the gallery website at www.LoneStar.edu/arts-kingwood.
Register now for credit classes online through myLoneStar.  Classes are offered days, evenings, or weekends in traditional, Internet, video, TV and independent study formats. For more information on how to register online, visit www.lonestar.edu/registration.
For general information about Lone Star College-Kingwood, call 281.312.1600 or visit http://lonestar.edu/kingwood.htm.
Lone Star College System has been opening doors to a better community for 40 years. Founded in 1973, LSCS remains steadfast in its commitment to student success and credential completion. Today, with 78,000 students in credit classes, and a total enrollment of more than 90,000, Lone Star College System is the largest institution of higher education in the Houston area and the fastest-growing community college system in the nation. Dr. Stephen C. Head is the chancellor of LSCS, which consists of six colleges including LSC-CyFair, LSC-Kingwood, LSC-Montgomery, LSC-North Harris, LSC-Tomball and LSC-University Park, five centers, LSC-University Center at Montgomery, LSC-University Center at University Park, Lone Star Corporate College, and LSC-Online. To learn more visit LoneStar.edu.
###