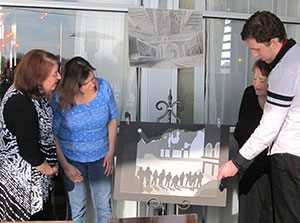 LSC-Kingwood student Hunter Story, far right, discusses his artwork with LHAA members, Linda Hamilton, Kristin Dumas, and Sheila Bridges, at his scholarship reception.
Dedicated to the arts and education, the Lake Houston Area Artists (LHAA) have been giving scholarships to promising art students for several years.
LHAA's 2015 Scholarship Artistic Achievement recipient is Hunter Story, a Lone Star College-Kingwood student. LHAA presented the student with a $500 check at a reception ceremony. Story has been a student at LSC-Kingwood since 2013 and is studying graphic design and game design.
"A team of LHAA judges were impressed with Hunter's work on many diverse levels. The graphics demonstrated strong technical skills and a good use of the principles of line, design and color," said Sheila Bridges, scholarship chair. "Creativity was also evident as Hunter put his own unique interpretation into the subject matter."
Other artists' works and the stories they tell, motivates Story in creating his artwork. He is inspired by magnificent creations both visual and non-visual. He says creating and interacting with art has always been enjoyable.
"Through writing, drawing, painting, reading, watching and listening, I want to share that same enjoyment with anyone I can," he said. "I am honored that LHAA recognized my work. I feel this is just the beginning of a beautiful start in visual arts."
Story will graduate from LSC-Kingwood in 2017-2018. He plans to earn a couple of associate degrees in fine arts/writing and a bachelor's degree in game design and graphic design. His career goal is to work as a freelance designer and concept artist. He also has ambitions to be an art director.
The Lake Houston Area Artists (formerly Kingwood Arts Society) is comprised of a talented group of people with a variety of different skill levels. Members share a love of art and a desire to pass it on. LHAA have been active in promoting arts in the local area for nearly 30 years. Scholarships come from membership dues as well as fundraising events such as the sale of mini masterpieces at shows, boutique resale of art supplies and books as well as a donation box. Until this year, scholarships were given to a fine arts student.
"This year is an exciting 'first' for us as the winner is a graphic design student. We are growing as we watch the talent of the future unfold," Bridges said.
In addition to giving scholarships, LHAA holds monthly meetings with artist demonstrations, sponsors two juried art competitions yearly, holds workshops and participates in community outreach. For more information, visit www.lakehoustonareaartists.com. For more information on art programs at LSC-Kingwood, visit http://www.lonestar.edu/art-dept-kingwood.htm. 
For more information on available courses or to register online, visit www.lonestar.edu/registration.
Register now for credit classes online through myLoneStar.  Classes are offered days, evenings, or weekends in traditional, Internet, video, TV and independent study formats. For more information on how to register online, visit www.lonestar.edu/registration.
For general information about Lone Star College-Kingwood, call 281.312.1600 or visit http://lonestar.edu/kingwood.htm.
Lone Star College System has been opening doors to a better community for 40 years. Founded in 1973, LSCS remains steadfast in its commitment to student success and credential completion. Today, with 78,000 students in credit classes, and a total enrollment of more than 90,000, Lone Star College System is the largest institution of higher education in the Houston area and the fastest-growing community college system in the nation. Dr. Stephen C. Head is the chancellor of LSCS, which consists of six colleges including LSC-CyFair, LSC-Kingwood, LSC-Montgomery, LSC-North Harris, LSC-Tomball and LSC-University Park, five centers, LSC-University Center at Montgomery, LSC-University Center at University Park, Lone Star Corporate College, and LSC-Online. To learn more visit LoneStar.edu.
###