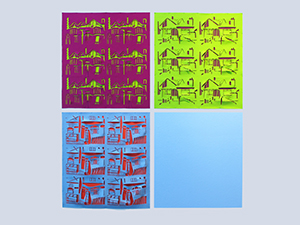 Lone Star College-Kingwood's Art Gallery will present, "Emergence" original prints by artist Sang-Mi Yoo May 14 through June 12, 2014. An artist talk/reception will be held Wednesday, May 14 at 12 p.m.
According to Yoo's biography, the artist photographs homes that are at the edge, where urbanization and tradition meet. After studying and selecting different architectural structures of residential houses, she transforms the original photos into organic patterns, using collages, drawings, paper/felt laser cuts and prints. Various cookie-cutter homes resonate an archetypal architecture residing in her memory, questioning whether her memories of an ideal home were ever uniquely "Korean." The juxtaposed installation of photo-based prints and laser cut wool felt creates optical illusions through distortions of the original houses, which compares the notion of ideal home as a tangible subject versus illusion.
Korean-born artist Sang-Mi Yoo is an Associate Professor of Art at Texas Tech University, and received an MFA in printmaking from The Ohio State University and a Bachelor of Fine Arts in painting from Seoul National University. Her creative activity includes the 2012 Seacourt Print Workshop Artist-in-Residence in Northern Ireland, a 2010 Puffin Foundation Artist Grant, and the 2009 Springfield Art Museum Purchase Award. Recent exhibitions include the Museum of Printing History and Lawndale Art Center in Houston, the Moonshin Museum in Korea, the Gyeongnam International Art Festival in Korea and the 2008 Pacific Rim International Print Exhibition in New Zealand, and museum collections at the Art Bank at the National Museum of Contemporary Art in Korea, the Springfield Art Museum and The Museum of Texas Tech University. As an active organizer of panels and events, she has also curated exhibitions including Convergence: Korean Prints Now and Makers in Print.
LSC-Kingwood Fine Arts Gallery is a participating venue with PrintHouston, a summer-long celebration of original prints, the artists who create them, and the people who collect them. To view their calendar of events, visit http://www.printmattershouston.org/printhouston-2014.
The gallery website is http://www.lonestar.edu/arts-kingwood.htm and the contact phone number is 281-312-1534. This exhibit is free and open to the public.
For more information, contact Kris Larson at Kristine.M.Larson@lonestar.edu or visit www.sangmiyoo.com for information on the artist.
Lone Star College System has been opening doors to a better community for 40 years. Founded in 1973, LSCS remains steadfast in its commitment to student success and credential completion. Today, with 78,000 students in credit classes, and a total enrollment of more than 90,000, Lone Star College System is the largest institution of higher education in the Houston area and one of the fastest-growing community college systems in the nation. Dr. Richard Carpenter is the chancellor of LSCS, which consists of six colleges including LSC-Cy Fair, LSC-Kingwood, LSC-Montgomery, LSC-North Harris, LSC-Tomball and LSC-University Park, seven centers, LSC-University Center at Montgomery, LSC-University Center at University Park, Lone Star Corporate College, and LSC-Online. To learn more visit LoneStar.edu.
###