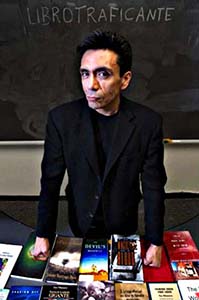 Honoring the contributions of Hispanics in America are the basic goals of Lone Star College-Kingwood's Hispanic Heritage Month Sept. 15-Oct. 15.
During the month-long celebration, the Intercultural Center, the Office of Student Life, and the library invite the community to various activities. One of the main events will be guest speaker Tony Diaz on Oct. 14 at 7 p.m. in the Student-Conference Center (SCC). He will discuss the book smuggling movement of banned books in one of Arizona's public school systems called, "Librotraficantes".
According to Diaz's website, www.tonydiaz.net, he founded Nuestra Palabra: Latino Writers Having Their Say in 1998. He is the leader of the Librotraficantes-Champions of Freedom of Speech, Intellectual Freedom, and Performance Protest. Diaz holds a Master of Fine Arts degree in Creative Writing, a black belt in Tae Kwon Do, and wrote the award-winning novel, "The Aztec Love God". He also hosts the Nuestra Palabra Radio Program on 90.1 FM KPFT in Houston.
"The purpose of Hispanic Heritage Month is to recognize and celebrate the history, culture, traditions, and contributions of Hispanics in the United States," said Kristen Wilkes, intercultural program coordinator at LSC-Kingwood. "We hope by putting on this event that students, faculty, and staff will enhance their understanding of the Hispanic culture and the importance of our Latino community right here at LSC-Kingwood."
In addition to Diaz, the community is also invited to the following Hispanic Heritage events:
Library's exhibit, "Voces Americanas: Latino Literature in the United States" Sept. 25-Oct. 16. The library is open Monday-Thursday from 7 a.m.-9 p.m., Friday from 9 a.m.-4:30 p.m. and Saturday from 9 a.m.-2 p.m.
Panel discussion on "The Changing Roles of Women in a Hispanic Society" on Oct. 1 at 12:30 p.m. in the SCC. It will be moderated by Dr. Cassandra Rincones, history professor.
Latino Leadership Summit for grades 9-12 on Oct. 4 at 9:30 a.m. in the SCC.
Film screening of "A Better Life" on Oct. 17 at 7 p.m. in the SCC.
"This is the first time in the history of LSC-Kingwood that the Hispanic influences shaping our community have been recognized and celebrated to this degree," said Tracie Ring, student life program manager. "With our rising Latino and Hispanic student populations, we hope that our students can come together in the appreciation of this facet of history."
According to the Library of Congress, Hispanic Heritage Month celebrates the history, cultures and contributions of American citizens whose ancestors came from Spain, Mexico, the Caribbean and Central and South America. For more information, visit http://hispanicheritagemonth.gov/about/.
For more information on Hispanic Heritage Month, contact Kristen Wilkes at Kristen.Wilkes@LoneStar.edu or Tracie.L.Ring@LoneStar.edu. For additional information on the "Voces Americanas: Latino Literature in the United States" exhibit in the library, visit http://www.humanitiestexas.org/exhibitions/list/by-title/voces-americanas-latino-literature-united-states.
Register now for credit classes online through myLoneStar. Classes are offered days, evenings, or weekends in traditional, Internet, video, TV and independent study formats. For more information on how to register online, visit www.lonestar.edu/registration.
For general information about Lone Star College-Kingwood, call 281.312.1600 or visit http://lonestar.edu/kingwood.htm.
Lone Star College System has been opening doors to a better community for 40 years. Founded in 1973, LSCS remains steadfast in its commitment to student success and credential completion. Today, with 78,000 students in credit classes, and a total enrollment of more than 90,000, Lone Star College System is the largest institution of higher education in the Houston area and the fastest-growing community college system in the nation. Dr. Richard Carpenter is the chancellor of LSCS, which consists of six colleges including LSC-CyFair, LSC-Kingwood, LSC-Montgomery, LSC-North Harris, LSC-Tomball and LSC-University Park, five centers, LSC-University Center at Montgomery, LSC-University Center at University Park, Lone Star Corporate College, and LSC-Online. To learn more visit LoneStar.edu.
###