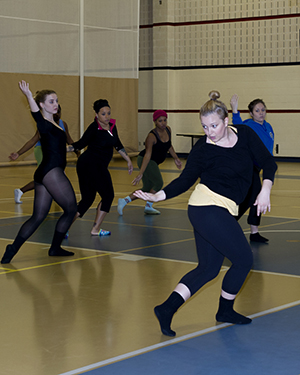 LSC-Kingwood's authority in dance was recently named one of Houston's Top 10 Choreographers by the Houston Press. Amy Llanes, professor of dance, was selected for her contributions to dance and for being the founder/choreographer of the Rederrnus Feil Dance Company. Llanes joined LSC-Kingwood's Department of Kinesiology and Dance in 2011.
"I am deeply honored for this distinction," said Llanes. "I am in great company with so many other talented choreographers in the Houston area, "explained Llanes. She recently teamed up with jhon r. stronks's "there…in the sunlight" to present Venturing Out, a series of informal performances featuring works from Houston area dancers.
Llanes earned a Bachelor of Fine Arts and a Master of Fine Arts degree in dance from Sam Houston State University. In 2013, she was interviewed by the Houston Press. In the article, Llanes explained the meaning behind the name of her dance company. "Redernerrus is surrender spelled Backwards and feil is a word scramble for life," she said. "As a choreographer, that is exactly what I try to do. My intention is to be completely open, vulernable and surrendering of my innermost self for the creative process. Most of my works I create stem from a moment, idea or image from my own personal life or the persons immediately surrounding me."
In addition to her instructional duties at LSC-Kingwood, Llanes has also taught at Houston Community College and at Sam Houston State University as both a guest and graduate instructor. Some of the courses Llanes has taught include jazz, modern dance, choreography, folk, and social dance among others.
Llanes has been an artist in residence at the Rice Dance Theatre and HopeWerks. Additionally, she was selected as Houston Press' 100 Creatives, and received a Dance Service Award from the Department of Theatre and Dance at Sam Houston State University.
Llanes has choreographed hundreds of dance performance in Houston and throughout Texas.
Lone Star College System has been opening doors to a better community for 40 years. Founded in 1973, LSCS remains steadfast in its commitment to student success and credential completion. Today, with 78,000 students in credit classes, and a total enrollment of more than 90,000, Lone Star College System is the largest institution of higher education in the Houston area and one of the fastest-growing community college systems in the nation. Dr. Richard Carpenter is the chancellor of LSCS, which consists of six colleges including LSC-Cy Fair, LSC-Kingwood, LSC-Montgomery, LSC-North Harris, LSC-Tomball and LSC-University Park, seven centers, LSC-University Center at Montgomery, LSC-University Center at University Park, Lone Star Corporate College, and LSC-Online. To learn more visit LoneStar.edu.
###