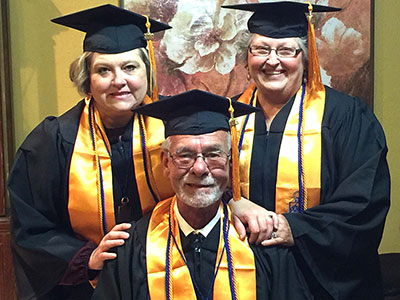 Harold and Frances (right) Gates and their daughter Deborah Mackey-Rogers graduated from Lone Star College-Kingwood.
The motto, "education is the key that opens many doors", helped motivate the Gates family to earn their college degrees.
The New Caney family instilled the motto in their children and grandchildren. After five years of hard work, dedication and perseverance, Harold and Frances Gates graduated from Lone Star College-Kingwood on May 14 along with their daughter, Deborah Mackey-Rogers. Rogers earned her associate of arts degree in December 2015, but chose to wait and celebrate walking across the stage with her parents. The Gates's grandson currently attends LSC-Kingwood.
"Harold and I had college hours, but did not have a degree when we retired. Our oldest daughter, Debbie, persuaded us to return to college," Frances said. "The only concerns we had about going back to school after so many years was getting registered, figuring out what classes we needed and how to 'get'r' done. We didn't think about it, we just did it."
The Gates graduated from Sam Houston High School in 1961 and have been married for 55 years. They applied for admission at LSC-Kingwood with no fear of the unknown. According to them, everyone they spoke to was kind and helped in every way they knew how, but did not know where to put two senior citizens returning for their degrees.
"On the fifth day, Mrs. Kathleen Adkins came to us and asked if she could possibly help. She took us under her wings, registered us for the right classes and took care of us until she retired," Harold said. "Mr. James Smith, in financial aid, was another major influence and go to person we could not have done without. They both helped smooth out the rough edges and answered any questions that we had."
Harold graduated with an associate of arts degree in management. Before retirement, he owned his own HVAC Company for 32 years. Frances graduated with an associate of arts degree. She worked as a paraprofessional in Conroe ISD for more than 20 years as a grade level secretary, an attendance clerk and PEIMS clerk. She plans to continue working as a substitute teacher.
"Our experience with Lone Star College has been one of the greatest in our lives. We shared things we have experienced in our lifetime with our younger classmates, as we have lived and experienced things they were being taught in class. At the same time, we have learned so much from them as the younger generation," the Gates said. "We could not have asked for our professors to have been more cooperative and patient."
As the Gates's motivator to go back to school, Rogers always admired her parents' decisions in life. She became the catalyst that sparked the family to climb the educational ladder. Rogers attended classes at LSC-Kingwood while working full-time as a paraprofessional in Conroe ISD.
"I always knew my parents were extraordinarily intelligent. Their over-achiever 'ness' is genetic," Rogers said. "Once I realized that furthering my education was doable, I knew they would hop on board. All I had to do was ask. My parents have never backed down from a challenge."
Working in the import-export business for 21 years, Rogers knew she wanted to take a different path in life. Graduated with her associate of arts degree, she is currently enrolled in the University of Houston-Downtown teaching program at LSC-Kingwood. She will earn her bachelor's degree in summer 2017 and will then enroll in the Alternative Teaching program.
"I have had great experiences at LSC-Kingwood. The professors are genuinely concerned with my success in their classes. I have a feeling of accomplishment and have encountered advisors who are ready and willing to guide me, even if it meant they had to stay late," she said.
The family's hard work, ambition and success have served as a role model for the Gates's grandson, Heath Allen Bagley Jr. As the family's third generation student at LSC-Kingwood, he is living with his grandparents and finishing his first year of college.
"Being at LSC-Kingwood is a new experience for me. I needed a new way of life and either I went to college or took the alternative route…which would have been the easy way, but not the best way," Bagley Jr. said. "Through this experience, I hope to gain knowledge that will better my chances to be a success in life and be the first in my family to graduate from college."
Bagley Jr. plans to graduate from LSC-Kingwood, and attend and graduate from a four-year university. He wants to be a sports marketer.
Due to their experiences and successes, the family is encouraging more people to get on the educational bandwagon.
"Going back to school takes commitment, backbone, late nights, hard work, self-sacrifice, and perseverance," the Gates said. "In all of this, you will find fun and happiness beyond your wildest dreams."
In 2012, the Gates were inducted into Phi Theta Kappa and both have been on the president's list each year. Frances was student of the year in 2014 and graduated with a 3.378 GPA. Harold graduated with a 3.444 GPA. Rogers was inducted into Phi Theta Kappa in 2013.
Register now for credit classes online through myLoneStar.  Classes are offered days, evenings, or weekends in traditional, Internet, video, TV and independent study formats. For more information on how to register online, visit www.lonestar.edu/registration.
For general information about Lone Star College-Kingwood, call 281.312.1600 or visit http://lonestar.edu/kingwood.htm.
Lone Star College System has been opening doors to a better community for 40 years. Founded in 1973, LSCS remains steadfast in its commitment to student success and credential completion. Today, with 78,000 students in credit classes, and a total enrollment of more than 90,000, Lone Star College System is the largest institution of higher education in the Houston area and the fastest-growing community college system in the nation. Dr. Stephen C. Head is the chancellor of LSCS, which consists of six colleges including LSC-CyFair, LSC-Kingwood, LSC-Montgomery, LSC-North Harris, LSC-Tomball and LSC-University Park, five centers, LSC-University Center at Montgomery, LSC-University Center at University Park, Lone Star Corporate College, and LSC-Online. To learn more visit LoneStar.edu.
###