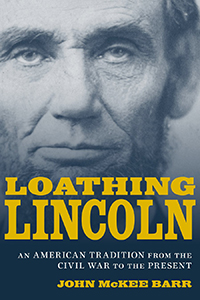 Love Abraham Lincoln or loathe him, most of us can benefit from learning more about the iconic president, his impact on the nation and how he has been perceived across time.
John M. Barr, professor of history at Lone Star College-Kingwood, has just published the book.
Loathing Lincoln: An American Tradition from the Civil War to the Present by the veteran educator and historian will be published April 7 by LSU Press, a leading publisher in the areas of Southern and Civil War history, as well as more general academic subjects. It is available for preorder from Amazon.
A book signing will be held on campus on Tuesday, April 22, at 12:30 p.m. at the CLA Building Room 114.
How did the book come about? "Years ago when I got my master's degree, I wrote my thesis on how Texans responded to Lincoln's assassination," Dr. Barr said. "There was a good deal of glee expressed over Lincoln being assassinated. When I was searching for a dissertation topic for my doctorate, it seemed like a good subject. And I knew there were others who didn't like Lincoln in the 1860s. There was some deep-seated hatred for the man. There were plenty of Northerners who didn't like him, either."
Dr. Barr earned his bachelor's degree in history from the University of Kentucky, his master's degree in history from the University of Houston – Clear Lake in 1988 and his Ph.D. from the University of Houston in 2010.
In 2011, Dr. Barr's dissertation, "The Anti-Lincoln Tradition in American Life," won the Hay-Nicolay Dissertation Prize from the Abraham Lincoln Association and the Abraham Lincoln Institute. Next step: a book for general readership. "I wrote it for the lay public," Dr. Barr said. "I've spent most of my life explaining concepts of history to students who are 16 years old, which benefited me as I tried to write a story in a jargon-free way."
Dr. Barr taught middle school for 6 years and was a high school U.S. history teacher for 18 years at Kingwood High School in north Houston before joining Lone Star College-Kingwood in 2008. In addition to serving as a professor of history at Lone Star, Dr. Barr is president of the faculty senate. His principal responsibilities as a history professor are "surveys of American or Texas history." He has also taught courses such as "Political Novels" and "The Emancipators: Charles Darwin, Abraham Lincoln, and the Making of the Modern World." As Dr. Barr noted, "In one of those odd coincidences of history, Lincoln and Darwin share the same birthday – February 12, 1809. I enjoy the course, and I think the students do, too."
In his new book, Dr. Barr tells the anti-Lincoln story in six chapters, beginning in the 1850s and continuing through 2013. His goal for readers of the book? "I would want them to know there is an anti-Lincoln tradition in American life," Dr. Barr said. "In a fundamental way he is some sort of touchstone. I think it was one of Lincoln's critics, Lerone Bennett, Jr. who said that we see in Lincoln, what we invest in Lincoln, is in some way an indication of who we are as a people."
The implications of topics that go beyond the specifics of Lincoln and his critics to more general perspectives on American politics also are part of the book. "In many ways in America, we pride ourselves on having a couple of ideals – a devotion to freedom and a devotion to equality," Dr. Barr said. "There's a very strong tradition that believes those concepts are not necessarily linked together – that if you're going to have freedom, you're not necessarily going to have equality." So Loathing Lincoln offers "not only a better understanding of Lincoln, but also a better understanding of politics, as well."
As for Lincoln, his detractors may have gotten their start in 1850s politics, but they continue to this day. Early on, especially from the 1890s onward, there was a "strain of criticism that to keep the South in the Union was akin to American imperialism," Dr. Barr said. "So Lincoln was seen and continues to be seen by some as 'The Great American Imperialist,' not 'The Great American Emancipator.'"
Over the decades – indeed, now, centuries – the anti-Lincoln narrative has taken various perspectives. Dr. Barr noted that, while he was not a Lincoln-hater, William F. Buckley Jr., the founder of modern conservatism and editor of the conservative National Review magazine, published in his periodical during the 1960s a number of articles discussing Lincoln's place in history.
"Congressman Ron Paul does not have a great deal of affection for Lincoln," Dr. Barr said. "Nor does Judge Andrew Napolitano" (a Fox News analyst). He also pointed out the longstanding efforts of the United Daughters of the Confederacy "to control what is included in textbooks."
A few African Americans are among Abraham Lincoln's critics, too, according to Dr. Barr. "Some believe he did not go far enough to create an egalitarian country," he said. "There is a cynical view of Lincoln that he really didn't believe in racial equality, didn't care about slavery ending."
Dr. Barr is clearly enthusiastic about his new book, which has already won the Jules and Frances Landry Award, presented each year to the LSU Press book that is judged by the Press as the most outstanding achievement in Southern studies. "For anybody who is interested in our nation's past, in Lincoln, our political culture, in the way history gets manipulated by political agendas," he said, "well, I think those people are going to find it interesting."
Lone Star College System has been opening doors to a better community for 40 years. Founded in 1973, LSCS remains steadfast in its commitment to student success and credential completion. Today, with 78,000 students in credit classes, and a total enrollment of more than 90,000, Lone Star College System is the largest institution of higher education in the Houston area and one of the fastest-growing community college systems in the nation. Dr. Richard Carpenter is the chancellor of LSCS, which consists of six colleges including LSC-Cy Fair, LSC-Kingwood, LSC-Montgomery, LSC-North Harris, LSC-Tomball and LSC-University Park, seven centers, LSC-University Center at Montgomery, LSC-University Center at University Park, Lone Star Corporate College, and LSC-Online. To learn more visit LoneStar.edu.
###