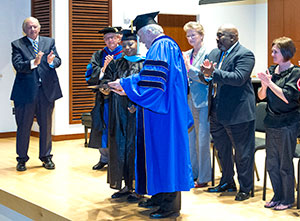 Dr. Brian J. May, ASU president, presented Kandis Eagleton with her master of education degree in guidance and counseling at a surprise graduation ceremony at LSC-Kingwood.
Focusing on family, students, and earning a graduate degree, Kandis Eagleton's plate was pretty full. She is a transitional specialist at the Cambridge School's MOSAIC program in the Humble Independent School District. This program has a partnership with Lone Star College-Kingwood.
Diagnosed with stage two breast cancer in November 2014, Eagleton persevered and completed all course work to earn a master of education degree in guidance and counseling from Angelo State University (ASU). Undergoing treatments, Eagleton was not able to participate in the graduation ceremony at ASU. Through careful planning, a surprise ceremony was held in her honor May 5 in LSC-Kingwood's Music Instructional Building.
"I was completely surprised. It was the greatest feeling to walk into a room full of people cheering for me! I felt so much love; it's almost indescribable." Eagleton said. "I'm still moved to tears just thinking about it. The ceremony and everyone involved was just beautiful. Thank you to everyone who played a part in this ceremony. This is something I will never forget as long as I live."
At the graduation ceremony, planned by LSC-Kingwood's Dr. Claudine Simpson, Eagleton was greeted by family, friends, and colleagues. Dressed in her graduation regalia, Eagleton received a standing ovation in the college's Recital Hall as she began her graduation procession.
"Kandis's treatments begin immediately following her diagnosis. She went through 16 rounds of chemotherapy and was facing surgery followed by five weeks of radiation. We knew she was not able to attend her graduation at ASU, so we wanted to make graduation a reality for her," said Simpson, adjunct faculty of education.
Standing on the stage, Dr. Brian J. May, ASU president; and Dr. Don Topliff, ASU provost and vice president for academic affairs; proceeded with the hooding and conferring of Eagleton's degree. Other education administrators in attendance were Ron Hammonds, ASU Board of Regents; Dr. Katherine Persson, LSC-Kingwood president; Dr. Darrin Rankin, LSC-Kingwood vice president of student success; Tammey Harlan, Cambridge principal; and Roni Jo Frazier, MOSAIC team leader/transitional specialist.
"We participated in this special graduation ceremony, because we wanted to give back to this student and we wanted to show her that we are behind her fight against cancer and support her through recovery," May said.
Eagleton's career background is in human resources. She quickly found out that was not the path for her and noticed that many people were unprepared for life after high school. This realization led her to a career in education. Her goal is to help impact students' lives and better prepare them to transition into adulthood. She has been with the Meeting Our Student's Academic & Individual Challenges (MOSAIC) program since 2011.
"I want to leave lasting, positive impressions on my students," Eagleton said. "I want to help each one of them discover their own personal genius and use it to live meaningful, productive lives."
The MOSAIC program is for students between the ages of 18 and 22 who have completed four years of high school and continue to need support from Humble ISD to enter the adult world. It helps students work on areas of need, which include four domains: adult living, employment, life-long learning, and recreation and leisure. For the last five years, Humble ISD has partnered with LSC-Kingwood to bridge the gap between high school and college so students with special needs can take college courses.
Register now for credit classes online through myLoneStar.  Classes are offered days, evenings, or weekends in traditional, Internet, video, TV and independent study formats. For more information on how to register online, visit www.lonestar.edu/registration.
For general information about Lone Star College-Kingwood, call 281.312.1600 or visit http://lonestar.edu/kingwood.htm.
Lone Star College System has been opening doors to a better community for 40 years. Founded in 1973, LSCS remains steadfast in its commitment to student success and credential completion. Today, with 78,000 students in credit classes, and a total enrollment of more than 90,000, Lone Star College System is the largest institution of higher education in the Houston area and the fastest-growing community college system in the nation. Dr. Stephen C. Head is the chancellor of LSCS, which consists of six colleges including LSC-CyFair, LSC-Kingwood, LSC-Montgomery, LSC-North Harris, LSC-Tomball and LSC-University Park, five centers, LSC-University Center at Montgomery, LSC-University Center at University Park, Lone Star Corporate College, and LSC-Online. To learn more visit LoneStar.edu.