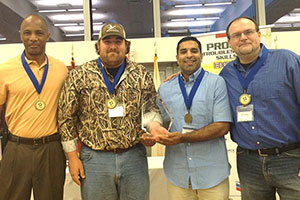 South Central Louisiana Technical College won the national Process Troubleshooting Skills in Energy Grant Competition held at LSC-Kingwood. Proudly holding their award are team members Paul Hansen, captain; Eric Babin, Omar Farooq, and Wayne Adams, coach.
Process technology programs are growing rapidly at educational institutions around the country.
Lone Star College-Kingwood recently hosted the national Process Troubleshooting Skills in Energy Grant Competition. By interacting with process technology programs at two-year and four-year colleges, LSC-Kingwood learned important tools and skills needed to create its own program and ensure students' success. This event was held through the National Science Foundation (NSF) Grant, Developing Students' Troubleshooting Skills in Energy Programs.
"The purpose of the competition was to give advanced students, in process technology programs across the nation, the opportunity to compete against each other to see who had the best skills in the area of troubleshooting," said Maribeth Stitt, dean of Business, Technology, Communication and Languages division at LSC-Kingwood.
LSC-Kingwood was awarded the grant from NSF's Advanced Technological Education division, in its last year. The grant allows colleges, including LSC-Kingwood, to better prepare students as entry level employees for the energy industry.
Prior to this event, 27 teams participated in the qualifying round. The top eight teams advanced to compete at the national event in Kingwood. The eight teams were asked to troubleshoot four potential problem scenarios that could occur in a process operation at a chemical plant. Participating teams were Bellingham Technical College, Washington; ITI Technical College, Louisiana; Kenai Peninsula College-Anchorage Extension, Alaska; Kenai Peninsula College-Kenai River, Alaska; Mississippi Gulf Coast Community College, Mississippi, Los Medanos College, California, South Central Louisiana Technical College, Louisiana, and University of Alaska in Fairbanks, Alaska.
"Our goal was to improve students' knowledge and skills in troubleshooting," Stitt said. "As more cognizant entry level employees, students are better prepared to handle process upsets and potential chemical plant accidents."
South Central Louisiana Technical College won the competition. They will house the traveling plaque for the ensuing year. All eight teams earned medallions and the top three teams received a crystal standing award for their colleges.
LSC-Kingwood's new Process Technology program will open in January 2017 at the LSC-Atascocita Center. The program will move to its permanent facility, located in Generation Park, in August 2017. The program will prepare graduates for entry-level careers as process technologists/operators in the petrochemical, plastics, food and beverage, and pharmaceutical industries. Through the use of state-of-the-art simulation equipment, as well as hands-on applied technology and general academic coursework, students will develop the skills required to be successful process technologists/operators.
For more information on the competition, NSF Grant or on LSC-Kingwood's Process Technology program, email Maribeth.W.Stitt@LoneStar.edu.
Register now for credit classes online through myLoneStar.  Classes are offered days, evenings, or weekends in traditional, Internet, video, TV and independent study formats. For more information on how to register online, visit www.lonestar.edu/registration.
For general information about Lone Star College-Kingwood, call 281.312.1600 or visit http://lonestar.edu/kingwood.htm.
Lone Star College System has been opening doors to a better community for 40 years. Founded in 1973, LSCS remains steadfast in its commitment to student success and credential completion. Today, with 78,000 students in credit classes, and a total enrollment of more than 90,000, Lone Star College System is the largest institution of higher education in the Houston area and the fastest-growing community college system in the nation. Dr. Stephen C. Head is the chancellor of LSCS, which consists of six colleges including LSC-CyFair, LSC-Kingwood, LSC-Montgomery, LSC-North Harris, LSC-Tomball and LSC-University Park, five centers, LSC-University Center at Montgomery, LSC-University Center at University Park, Lone Star Corporate College, and LSC-Online. To learn more visit LoneStar.edu.
###