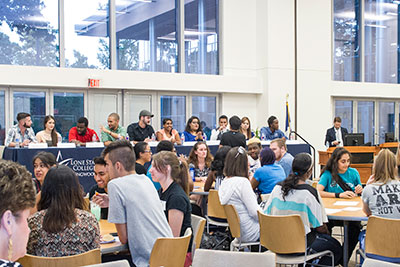 LSC-Kingwood invites the community to discuss race relations at its Race Summit III on Thursday, Nov. 17 at 7 p.m. in the Student Conference Center.
Race, diversity and inclusion are topics that many are having around the world.
These sensitive topics will be discussed at Lone Star College-Kingwood's Race Summit III on Thursday, Nov. 17 at 7 p.m. in the Student Conference Center (SCC). The summit will encourage students and the community to have an open dialogue on microaggressions, statistics regarding race and socio-economic status, and mass incarceration. The role in which race plays in the work place will also be discussed.
"The most dangerous of tensions are unspoken. I believe the race summit allows students to speak up and address these tensions as a collective whole and to ease the constant strain implied by our society," said Austin Schafer, LSC-Kingwood student and Student Government Association vice president of finance.
The main goal at Race Summit III is to provide students, employees and community members with a better understanding of the racial climate in society and how they can work to be a part of the solution to the issues this country is facing. Guest speaker will be Joe Bontke, acting deputy director for the Houston District Office of U.S. Equal Employment Opportunity Commission.
"The race summit allows students to see a different perspective from their own. With perspective comes understanding, and with understanding comes amity," Schafer said. "My hope is that this event will evoke understanding and compassion in each individual in attendance, for all human beings."
In fall 2015, LSC-Kingwood students and employees hosted the first Race Summit in which race relations was discussed with students from the University of Maryland-Baltimore County. In spring 2016, Race Summit II provided deeper insight into the issue of microaggressions, privilege, and income inequality.
"Topics are selected based upon issues that our society is currently experiencing," said Kristen Johnson, director of the Intercultural Center at LSC-Kingwood. "These are important issues that need to be addressed to better our world."
For more information on Race Summit III, email Kristen.A.Johnson@LoneStar.edu.
Register now for credit classes online through myLoneStar. Classes are offered days, evenings, or weekends in traditional, Internet, video, TV and independent study formats. For more information on how to register online, visit www.lonestar.edu/registration.
For general information about Lone Star College-Kingwood, call 281.312.1600 or visit http://lonestar.edu/kingwood.htm
Known for its leadership, innovation and steadfast commitment to student success, Lone Star College provides high-quality academic transfer and workforce education/career training programs to more than 85,000 credit students each semester, and a total enrollment of 98,000 students. LSC is training tomorrow's workforce today and redefining the community college experience to promote student success and economic prosperity. Stephen C. Head, Ph.D., is the chancellor of LSC, the largest institution of higher education in the Houston area, which consists of six colleges, eight centers, two university centers, Lone Star Corporate College and LSC-Online. To learn more visit LoneStar.edu.
###