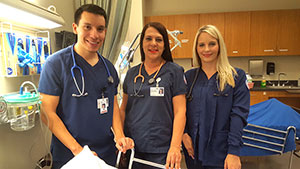 LSC-Kingwood nursing students, James Oakes Jr., Kelley Michal and Lindsay Smith, will offer blood pressure checks at the Health and Wellness Fair on June 8.
Lone Star College-Kingwood invites the campus and community members to its first Health and Wellness Fair on June 8 from 9 a.m.-2 p.m.
Organized by the college's Women's Center, the fair will provide information and offer opportunities for the public to help others in need. The event will be held in the Student Conference Center's atrium and conference room.
"The wellness fair will provide our students and community with an opportunity to save lives right here in Houston with very little effort. This can be accomplished by donating a pint of blood and or being tested to be a potential bone marrow donor," said Diane Blanco, Women's Center director.
The fair will provide a variety of health-related opportunities. LSC-Kingwood's nursing, occupational therapy assistant and respiratory care students will provide free health and wellness demonstrations. In addition, Gulf Coast Regional Blood Center will host a blood drive; Be the Match will register perspective bone marrow donors; and the Alpha Pregnancy Center will provide free pregnancy tests, counseling and referrals.
"As many as three lives can be saved through the donation of blood and bone marrow. Individuals who sign an organ donor card could possibly provide life-saving organs and tissue to as many as 14 people," Blanco said.
According to the Gulf Coast Regional Blood Center, there is an ongoing need in the area to replenish blood supplies, as donated blood cells are only viable for 42 days. All blood donations will be tested for the Zika virus and individuals will be notified later if their tests are positive. All donors will receive snacks and a free T-shirt.
According to Be the Match, more than 12,000 patients in the United States who are diagnosed with life-threatening blood cancers—like leukemia and lymphoma—, their best or only hope of a cure is a transplant from an unrelated adult donor or umbilical cord blood unit. Testing for possible donors can help save many lives.
"We hope this fair will increase our registry members," said Felicia Gann, community engagement manager with Be The Match. "The more we increase the size and diversity of the Be The Match Registry, the more likely we are to find a match for all patients. Every person who joins the registry has the chance to save a life and give every patient hope."
Along with health-related resources and activities, the college's Center for Civic Engagement (CCE) will hold a voter registration drive. Eligible registrants must be a U.S. citizen and 18 years of age or older by the election in November.
"We believe that every citizen should have an opportunity to vote. Studies show the biggest reason people do not vote is because they are not registered," said Dr. John Theis, CCE director and political science professor.  "We want to help make registering as easy as possible."
In addition, money will be collected for the college's Student Emergency Fund through a Summer Reading Used Book Sale and a raffle for two sets of Houston Astros' tickets. The Beading Club will sell their original creations.
LSC-Kingwood's Health and Wellness Fair is free. Snacks will be provided and participants can register to win door prizes. For more information, email Diane.K.Blanco@LoneStar.edu or call 281-318-4332.
Register now for credit classes online through myLoneStar.  Classes are offered days, evenings, or weekends in traditional, Internet, video, TV and independent study formats. For more information on how to register online, visit www.lonestar.edu/registration.
For general information about Lone Star College-Kingwood, call 281.312.1600 or visit http://lonestar.edu/kingwood.htm
Known for its leadership, innovation and steadfast commitment to student success, Lone Star College provides high-quality academic transfer and workforce education/career training programs to more than 83,000 credit students each semester, and a total enrollment of 95,000 students. LSC is training tomorrow's workforce today and redefining the community college experience to promote student success and economic prosperity. Stephen C. Head, Ph.D., is the chancellor of LSC, the largest institution of higher education in the Houston area, which consists of six colleges, eight centers, two university centers, Lone Star Corporate College and LSC-Online. To learn more visit LoneStar.edu.
###