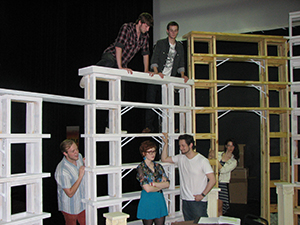 Pictured is a rehearsal scene from "Love's Labour's Lost". Biron (Dan Calderon, center) tries to court Rosaline (Sandra Peck, center), while Fernando (Jacob Walters, far left), Katharine (Emily Morris, far right), Longaville (Eric C. Sandell, top left), and Dumaine (Robert J. Byford) watch and wait for laughs.
Swearing off love, parties and the dormitory buffet creates comedy and havoc in Shakespeare's "Love's Labour's Lost".
The production chronicles the journey of Ferdinand and his fraternity brothers at Navarre University as they try to focus on their college education. All goes according to plan until Adrienne, a foreign exchange student, arrives from France with her three best friends. "Love's Labour's Lost" will be performed on Oct. 3-5 at 7:30 p.m. and Oct. 5-6 at 2 p.m. on the Performing Arts Center Main Stage at Lone Star College-Kingwood.
"This is one of Shakespeare's more obscure comedies, but it is light and fast-moving. It has a huge cast that is equally balanced between men and women," said Eric Skiles, artistic director of theatre and professor of theatre and humanities. "We think people will gain a new appreciation of Shakespeare and leave the theatre realizing that Shakespeare's stories are timeless and very accessible to modern audiences."
The cast is comprised of 12 LSC-Kingwood students and six community members. With two separate storylines, the main characters are the boys (Fernando, Biron, Longaville and Dumaine) who are trying not to fall in love with the girls (Adrienne, Rosaline, Maria, and Katherine).
"Our community members will really enjoy the updated version we are producing – the language flies along, and the characters are very real-life. Imagine Shakespeare crossed with 'One Tree Hill'," Skiles said.
Cast members are Jacob Walters as Fernando, Daniel Calderon playing Biron, Eric C. Sandell as Longaville, Robert J. Byford playing Dumaine, Sara Ruffin as Adrienne, Sandra Peck playing Rosaline, Jordan Dulaney as Maria, Emily Morris playing Katharine, Kimberley Coulter as Boyet, Geoff Geiger playing Costard, Bruce Arrick as Dull, Bobby Malbrough playing Professor De Armado, Sydney Canaan as Moth, Stacey Watts playing Professor Holofernes, Eric Usher as Sir Nathaniel, Amber Horne playing Jaquenetta, Bathany Ng Tang as The Librarian, and Derek Gaskamp playing The Student.
Tickets to "Love's Labour's Lost" are $12 for general admission, $10 for senior citizens age 55 and older, and $5 for students. For more information or to reserve tickets, call 281-312-1532 or email KWBox@LoneStar.edu.
Register now for credit classes online through myLoneStar. Classes are offered days, evenings, or weekends in traditional, Internet, video, TV and independent study formats. For more information on how to register online, visit www.lonestar.edu/registration.
For general information about Lone Star College-Kingwood, call 281.312.1600 or visit http://lonestar.edu/kingwood.htm.
Lone Star College System has been opening doors to a better community for 40 years. Founded in 1973, LSCS remains steadfast in its commitment to student success and credential completion. Today, with 78,000 students in credit classes, and a total enrollment of more than 90,000, Lone Star College System is the largest institution of higher education in the Houston area and the fastest-growing community college system in the nation. Dr. Richard Carpenter is the chancellor of LSCS, which consists of six colleges including LSC-CyFair, LSC-Kingwood, LSC-Montgomery, LSC-North Harris, LSC-Tomball and LSC-University Park, five centers, LSC-University Center at Montgomery, LSC-University Center at University Park, Lone Star Corporate College, and LSC-Online. To learn more visit LoneStar.edu.