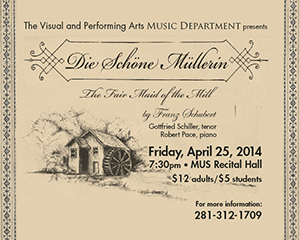 Lone Star College-Kingwood music faculty member, Gottfried Schiller will perform a 70-minute epic work of Franz Shubert's dramatic song cycle Die Schöne Müllerin (The Fair Maid of the Mill) as part of a fundraiser for the Kingwood Summer Opera, Friday, April 25 at 7:30 p.m. in the Music Recital Hall.
"I love America and I love teaching at LSC-Kingwood," said Schiller, who is studying to become an American citizen.   "But I also love the music of my Germanic heritage and I feel I have something unique and authentic to offer the American public and student, as the music of Beethoven, Brahms, Strauss and Schubert I know very well."
Born in the former East Germany, Schiller attended the prestigious Hochschüle fur Musik in Dresden and performed in more than 100 opera productions in 30 years with the Komische Oper in Berlin. He eventually married American soprano Anne Heath-Welch and moved to Houston. They both teach voice and direct the Kingwood Summer Opera at LSC-Kingwood.
"The 100-seat recital hall is a perfect place to hear this music," said LSC-Kingwood professor of music and vocal area coordinator Dr. Todd Miller. "This music would have been originally performed in a salon or a large room in an estate and in a small space one can hear the music and the emotion in the poems very intimately,"   Miller added. Mr. Schiller will be accompanied on piano by Adjunct Music Faculty member Bobby Pace.
Kingwood Summer Opera will mount a full production of Richard Strauss' opera Ariadne auf Naxos June 27-29 and this recital is to help defray costs for the opera's chamber orchestra.
Tickets are $12 for adults and $5 for students and can be reserved by calling 281-312-1709.  Tickets are also available at the door.
Lone Star College System has been opening doors to a better community for 40 years. Founded in 1973, LSCS remains steadfast in its commitment to student success and credential completion.  Today, with 78,000 students in credit classes, and a total enrollment of more than 90,000, Lone Star College System is the largest institution of higher education in the Houston area and one of the fastest-growing community college systems in the nation.  Dr. Richard Carpenter is the chancellor of LSCS, which consists of six colleges including LSC-Cy Fair, LSC-Kingwood, LSC-Montgomery, LSC-North Harris, LSC-Tomball and LSC-University Park, seven centers, LSC-University Center at Montgomery, LSC-University Center at University Park, Lone Star Corporate College, and LSC-Online. To learn more visit LoneStar.edu.
###