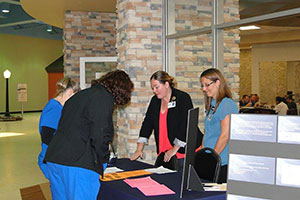 LSC-Kingwood nursing students presented their research projects at Kingwood Medical Center. The students are a part of The Honors College at Lone Star College.
Knowledge on how to care for a variety of patients stems from years of research.
Nurses and other medical professionals at Kingwood Medical Center will have the opportunity to access and utilize research from senior nursing students in The Honors College at Lone Star College (LSC). Their research ideas were generated while doing clinical rotations at the hospital.
Lone Star College-Kingwood nursing faculty Peggy Aalund, Marcia Callarman, and Doris Jackson have worked with these senior students for the last several months to support and guide them during their research. According to Callarman, "the nursing honors students consistently go above and beyond to influence their peers and the nursing profession. They are the future of nursing and we are very proud of all of them."
The LSC-Kingwood students tailored their research and teaching tools to a variety of subject areas that will help them and other medical practitioners effectively care for patients. Based on their internships, the subjects consisted of ethical decisions regarding Jehovah Witness patients, intravenous access, modified early warning signs and implementation of strategies to reduce hospital readmission rates.
"Our students' honors research not only aids their ability to transfer into specialized programs, get scholarships and jobs, and network within their fields--that research becomes a way to give back to the community in a meaningful and substantive way," said Dr. Katharine Caruso, executive director of The Honors College at LSCS.
Research on ethical decision and Jehovah Witness patients was explored due to a lack of education and understanding of medical wishes of people who practice this religion. Students Tammy Leitner, Katy Cauley, Melissa Jones and Chandra Dacus developed a brochure to guide nurses through the process of caring for patients that require blood products but can't accept them due to religious beliefs. In addition, they developed a chart for patients that will help them to identify which options they have without compromising their beliefs.
During clinical rotations, students identified knowledge gaps on how to address intravenous (IV) starts on patients with difficult venous access. Students Monique Lee and Jennifer Adams also researched various options beyond the traditional peripheral IV. Based on their research, they created a decision tree to help guide nurses.
Working in various departments at Kingwood Medical Center, students Cassandra Smith and Ruby Hernandez experienced emergent situations and worked closely with the rapid response team to try to pinpoint patients' turn of events. The students were able to review the trends in patient data to identify changes that led to the emergency event.  The students came up with a way to reinforce the use of the hospital's MEWS scoring table as a method for nurses to implement this back into their practice of caring for their patients.
During rotations, students observed multiple instances of patients being readmitted to the hospital. Readmission rates have been a known challenge to healthcare organizations across the country and our local hospitals experience the same challenges. Students Amanda Dietz and Malinda Long delved deeper into the subject and observed that hospital readmission within 30 days is a problem that shows decline in a patient's health status, and for hospital reimbursement due to the Medicare Hospital Readmission Reduction Program (HRRP), a provision in the Affordable Care Act.
As a result of their research, they introduced the use of Project Boost by the Society of Hospital Medicine. This program uses Teach Back, which is a thorough discharge teaching module that reduces common causes of hospital readmission and identifies patients who are at risk for readmission.
"I have been incredibly impressed with the caliber of evidenced-based research done by these honors nursing students. All four projects were very current and relevant to the patient issues that we see today," said Catherine Palmer-Loar, Intensive Care Unit manager at Kingwood Medical Center.
The Honors College at LSC is designed to meet the needs of high-achieving students seeking to improve their college transcripts and transferability with challenging coursework provided across a broad range of disciplines. Courses will engage and challenge students inside and outside the classroom through small classes and close interaction with dedicated faculty.
For more information on The Honors College at LSC, email TheHonorsCollege@LoneStar.edu or visit http://www.lonestar.edu/HonorsCollege.
Register now for credit classes online through myLoneStar.  Classes are offered days, evenings, or weekends in traditional, Internet, video, TV and independent study formats. For more information on how to register online, visit www.lonestar.edu/registration.
For general information about Lone Star College-Kingwood, call 281.312.1600 or visit http://lonestar.edu/kingwood.htm.
Lone Star College System has been opening doors to a better community for 40 years. Founded in 1973, LSCS remains steadfast in its commitment to student success and credential completion. Today, with 78,000 students in credit classes, and a total enrollment of more than 90,000, Lone Star College System is the largest institution of higher education in the Houston area and the fastest-growing community college system in the nation. Dr. Stephen C. Head is the chancellor of LSCS, which consists of six colleges including LSC-CyFair, LSC-Kingwood, LSC-Montgomery, LSC-North Harris, LSC-Tomball and LSC-University Park, five centers, LSC-University Center at Montgomery, LSC-University Center at University Park, Lone Star Corporate College, and LSC-Online. To learn more visit LoneStar.edu.
###