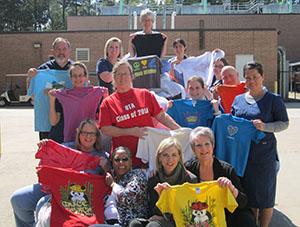 The Rotary Club of East Montgomery County is playing a critical role in supporting Nicaraguan mothers and their children. "T-shirts for Nicaragua," a project designed to collect T-shirts which are then cut and hemmed and turned into diapers was embraced by LSC-Kingwood's Occupational Therapy Assistant (OTA) program. Nicaragua is the second poorest country in Latin America where households headed by women under the age of 15 are among the poorest and most disadvantaged groups in the country.
"As part of a community outreach project we decided this was something we could do," said John Pollard, president of the Student Occupational Therapy Assistant (SOTA) organization. "In order to make this a meaningful and fun experience for SOTA, we decided to challenge the 2014 and 2015 OTA classes. We were overwhelmed by the response of students," Pollard remarked. "Within several weeks we collected more than 3,010 T-shirts."
And it did not stop there. When word spread among students, faculty and administrators throughout the college, T-shirts arrived by the bag loads. By the end of the three month drive, more than 1,365 T-shirts were collected campus wide with the final count at 4,375 T-shirts.
"What is amazing is that we have students who really cared about this project," said Dr. Suann Hereford, LSC-Kingwood counselor and incoming president of the Rotary Club of East Montgomery. "Our Rotary club embraced this endeavor because we thought we could make a difference," Dr. Hereford added.
Once all the T-shirts were collected, they were turned in at the District 5910 Conference in College Station. Organizers estimated that about 20,000 T-shirts were collected from the 41 Rotary clubs in District 5910, which reaches from Beaumont to Woodville across to College Station around Houston and down to Galveston.
Upon arrival in Nicaragua, youth are trained to operate foot pedal powered sewing machines so that the cutting and hemming is performed locally. The youth earn income and Nicaraguan mothers have immediate access to inexpensive diapers.
To show their appreciation for the T-shirt drive, LSC-Kingwood OTA students were treated to ice cream sundaes by members of the Rotary Club of East Montgomery.
Lone Star College System has been opening doors to a better community for 40 years. Founded in 1973, LSCS remains steadfast in its commitment to student success and credential completion. Today, with 78,000 students in credit classes, and a total enrollment of more than 90,000, Lone Star College System is the largest institution of higher education in the Houston area and one of the fastest-growing community college systems in the nation. Dr. Richard Carpenter is the chancellor of LSCS, which consists of six colleges including LSC-Cy Fair, LSC-Kingwood, LSC-Montgomery, LSC-North Harris, LSC-Tomball and LSC-University Park, seven centers, LSC-University Center at Montgomery, LSC-University Center at University Park, Lone Star Corporate College, and LSC-Online. To learn more visit LoneStar.edu.
###