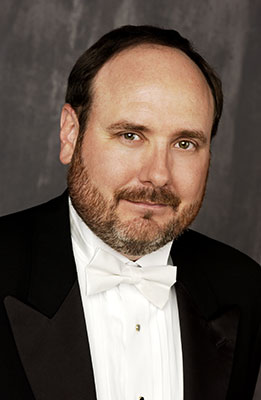 Miller
Years of musical experiences, working with talented musicians, and honing his craft has led to many incredible opportunities for Dr. Todd Miller.
Miller, music professor and lead faculty at Lone Star College-Kingwood, will perform a lead role in the premiere of a new opera by German composer Walter Steffens. His performance in "Two Cells In Sevilla", will take place at The Round Top Music Festival in Round Top on Nov. 5. The organizers invited Miller based on his experience in learning and performing difficult musical pieces.
"I am always honored to be a part of premieres of new music. Our art form (classical music) is not just to bring the music of past great composers to life, but to also bring to life music in our own time and history," Miller said. "I am excited to be a part of this opera. The challenge of this composition keeps me sharp vocally."
The "Two Cells In Sevilla" opera is a main element of the annual Theatre Forum at the Round Top Music Festival. It will be professionally recorded and produced by Parma Records. Miller will sing tenor as he is joined by three other vocalists and five instrumentalists.
"My goal is to do justice to the music. In opera, that means learning the music very well and then being able to apply an interesting characterization to the role," he said. "I am honored to make music with the world-class musicians assembled for the occasion."
In addition to his classes at LSC-Kingwood, Miller conducts the Concert Choir and the new chamber vocal ensemble called Evok. He is also the artistic director and conductor of the Kingwood Chorale and Chamber Orchestra, and recently conducted the Brahms Requiem in a 25th anniversary performance celebration of that organization.
"Performing at the festival is a great musical opportunity for me. I think it is important for music students to be taught by professors who are actively engaged in music making on a professional level, whatever genre that may be," Miller said.
The professor and vocalist made his Carnegie Hall debut in 2007 conducting Mozart's "Solemn Vespers" with the Kingwood Area Grand Chorus and the New England Chamber Ensemble. He is also music director of First Presbyterian Church of Kingwood.
"I always loved music and singing. I also loved baseball, and wanted to be a professional baseball player. However, in high school, when I was not even starting for the freshman team, I realized that music held a greater potential for me," he said. "I can't imagine doing anything else. Music has brought me so much joy and satisfaction. I love making music with people!"
Also in demand as a lyric tenor, Miller's singing engagements have included Mendelssohn's "St. Paul" and Beethoven's "Choral Fantasy" with the Houston Symphony; "Les Noces" with Da Camera Society; Handel's "Messiah" with the Houston Chamber Choir; and Beethoven's "Mass in C" with the Houston Choral Society. He has collaborated with several contemporary composers, including Carlisle Floyd, Richard Faith, Robert Nelson, Henry Mollicone, and John Cornelius. He also recorded a "crossover" CD entitled, "Bring Him Home" with Steinway Jazz artist/arranger Paul English.
"There are so many fantastic genres even in vocal music, but my favorite is opera because it combines all the elements of drama, music, singing, instrumental playing, lighting, and costumes all together to make a very powerful art. It is also the most difficult of all vocal genres to do well," Miller said.
Miller earned vocal performance degrees from the University of Louisville and the University of Arizona. He holds a Doctor of Musical Arts degree in voice performance and conducting from the University of Houston.
Register now for credit classes online through myLoneStar. Classes are offered days, evenings, or weekends in traditional, Internet, video, TV and independent study formats. For more information on how to register online, visit www.lonestar.edu/registration.
For general information about Lone Star College-Kingwood, call 281.312.1600 or visit http://lonestar.edu/kingwood.htm
Known for its leadership, innovation and steadfast commitment to student success, Lone Star College provides high-quality academic transfer and workforce education/career training programs to more than 85,000 credit students each semester, and a total enrollment of 98,000 students. LSC is training tomorrow's workforce today and redefining the community college experience to promote student success and economic prosperity. Stephen C. Head, Ph.D., is the chancellor of LSC, the largest institution of higher education in the Houston area, which consists of six colleges, eight centers, two university centers, Lone Star Corporate College and LSC-Online. To learn more visit LoneStar.edu.
###