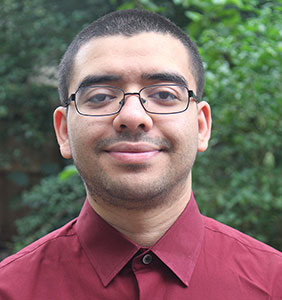 Umanzor
Life experiences showed Edwin Umanzor that furthering his education should be a top priority.
After barely getting by in school and working various dead-end jobs, Umanzor realized that he needed a better education to achieve his goals in life. He enrolled in Lone Star College-Kingwood in fall 2013 and earned the Jack Kent Cooke Scholarship Foundation Award in spring 2016. As one of four student recipients within the Lone Star College System, he will receive $40,000 per year to complete his bachelor's degree at the University of Texas (UT) at Austin. The scholarship could also provide him with $50,000 per year for up to four years of graduate school.
"When I received the news at work that I was getting the scholarship, I was speechless," Umanzor said. "It was a very surreal experience. I never expected to actually win. This scholarship is such an amazing honor."
The scholarship will help pay for Umanzor's educational expenses at UT, which includes tuition, living expenses, books and required fees. Since he will no longer have to balance school and work, he can take advantage of available internships and research opportunities.
The son of El Salvadorian immigrants, Umanzor didn't value his education and earned poor grades in school. He was ultimately kicked out for his truancy and behavior. After struggling to make ends meet, he decided he needed to make a change. With overwhelming support, the student moved back in with his parents and began his journey at LSC-Kingwood.
"I decided to go back to school to better myself, but I'm also doing this for my parents. They gave up their educational goals when they emigrated from El Salvador. My education is validation that all of their sacrifices were worth it," Umanzor said. "Focusing on my education gives me a sense of responsibility, something that I didn't have before."
At LSC-Kingwood, Umanzor worked hard to improve his grades and joined The Honors College and Phi Theta Kappa. In addition to balancing classes and his job, he also earned an internship at Mercer Arboretum and Botanical Gardens to help conduct a research project in spring 2015. He graduated in May with an associate of science degree with honors in research. In the fall, he will attend UT and pursue a Bachelor of Science degree in biology. Afterwards, he plans to attend an evolutionary biology graduate program.
"Receiving the Jack Kent Cooke Foundation Award is reserved not only for exceptional students, but exceptional individuals," he said. "I never saw myself as someone who belonged in that category, but I'm thankful the foundation did."
John Dethloff, a LSC-Kingwood English professor and Honors College director, persuaded Umanzor to apply for the scholarship based on his coursework for The Honors College. According to Dethloff, the student worked as a seed propagation intern at Mercer Botanic Gardens. Through this advanced research, he was able to gain hands-on experience and learn statistical analysis techniques. He was also a recipient of an Honors College Scholarship to join LSC-Jakarta Student Exchange Program in fall 2015.
"As part of the exchange program, Edwin went beyond classroom students and dedicated himself to undertaking service projects while in Indonesia," Dethloff said. "He is a talented student who is very deserving of the Jack Kent Cooke Scholarship."
Register now for credit classes online through myLoneStar. For general information about Lone Star College-Kingwood, call 281.312.1600 or visit www.lonestar.edu/registration.
Known for its leadership, innovation and steadfast commitment to student success, Lone Star College provides high-quality academic transfer and workforce education/career training programs to more than 83,000 credit students each semester, and a total enrollment of 95,000 students. LSC is training tomorrow's workforce today and redefining the community college experience to promote student success and economic prosperity. Stephen C. Head, Ph.D., is the chancellor of LSC, the largest institution of higher education in the Houston area, which consists of six colleges, eight centers, two university centers, Lone Star Corporate College and LSC-Online. To learn more visit Lone Star College - LoneStar.edu.
###