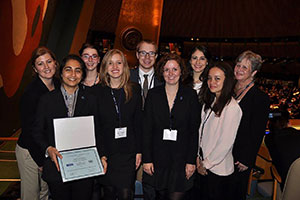 LSC-Kingwood delegates proudly display their Outstanding Delegation Award that they earned at the National Model United Nations Conference in New York.
Surrounded by four-year national and international universities at the annual National Model United Nations (NMUN) Conference in New York, some would say that community college students are out of their league.
Competing against at least 500 colleges and universities, seven Lone Star College-Kingwood students joined LSC-Montgomery and LSC-Tomball as they represented Equatorial Guinea at NMUN. The delegation walked away with the top award, Outstanding Delegation, the highest distinction given, as well as five position paper awards. The University of Munich was the only institution that received more awards than LSC-Kingwood. 
"This truly is outstanding since most of the students who participate in the conference are upper-division students majoring in international affairs. Others are graduate students or law students, specializing in international law," said Peggy Lambert, history professor and delegation advisor. "The university students generally prepare for the conference for several years. Therefore, our community college students actually beat these advanced students."
Students went through an intense application and interview process. Once selected in October 2014, they began their two to three hour weekly meetings each Friday at LSC-Montgomery. In addition, they met once a week with their LSC-Kingwood advisors, Lambert and Stephanie Kelly. The delegates had to learn as much as possible about their assigned country, Equatorial Guinea, its allies and assigned topics for the committees. They also had to write committee position papers on those topics and prepare a number of speeches to deliver at the New York conference.
"Even though NMUN is just a simulation of real life problems I treated it like it was real - because in my future I want to solve these issues. What a fantastic way to grow leadership skills and learn to communicate with people coming from different cultural backgrounds," said Sidney Stockett, LSC-Kingwood student and delegate. "This program helped shape my future because I hope to eventually work with the Red Cross giving aid around the world, the United Nations World Food Programme doing the hands on field work, or perhaps even start my own non-profit." Once she graduates from LSC-Kingwood with an associate of arts degree, Stockett plans to continue her education by earning a master's degree in Global Studies and International Relations at University of Texas or the University of Houston. After that, she wants to pursue graduate school at Harvard University and obtain a degree in international relations and journalism.
The students earned the Outstanding Delegation Award by remaining "in character" and representing their assigned country by advocating for its position consistent with its political, social and economic constraints. They actively participated in their committees both in formal and informal sessions by delivering speeches promoting Equatorial Guinea's position and worked to secure passage of resolutions in the interests of the country by building consensus. Additionally, the delegation had to follow all Rules of Procedure for the United Nations. The group also won a best in committee award.
"Learning time management was a huge part of both the preparation and the conference. This isn't a club where you meet once a week and have pizza, this is an organization where you're spending upwards of several hours a day researching and writing," said Katie Munro, LSC-Kingwood student and delegate. "I'd done some major research projects before joining NMUN, but nothing compared to the research I had to do in preparation for New York. I probably read and took notes on more than four dozen documents, and that doesn't even include all the research I had to do to learn how the United Nations functions." Munro plans to attend the University of Texas Austin in the fall to major in International Relations and Global Studies and minor in Middle Eastern Studies. Once she graduates, she plans to attend graduate school, earn a doctorate degree and perhaps work as a foreign diplomat or for the UN.
According to NMUN, the simulation provides experiential learning programs to a diverse group of informed college and university students and faculty from all over the world. Its forums allow delegates a chance to address global concerns in a real world context. Each delegation is assigned a country based on the number of delegates on the team. More than 5,000 college and university students, more than half from outside the United States, come to New York City each spring to discuss current global issues relevant to 21 simulated UN committees.
"At LSC-Kingwood we believe in the importance of developing better global citizenship since we live in an increasingly global world environment and the college sees participation in NMUN as an outstanding way to promote more responsible global citizenship," Lambert said. "Professor Kelly and I are extremely proud of the 2015 delegation. They worked together so well throughout the many months spent in preparation for the conference.  In all the years that I have been a NMUN advisor, this is the most outstanding group of students that I have coached."
In the past, LSC-Kingwood has won five Distinguished Delegation Awards and one Honorable Mention Award. They have also won three position awards in many years. For more information on National Model United Nations, visit http://www.nmun.org/.
Register now for credit classes online through myLoneStar.  Classes are offered days, evenings, or weekends in traditional, Internet, video, TV and independent study formats. For more information on how to register online, visit www.lonestar.edu/registration.
For general information about Lone Star College-Kingwood, call 281.312.1600 or visit http://lonestar.edu/kingwood.htm.
Lone Star College System has been opening doors to a better community for 40 years. Founded in 1973, LSCS remains steadfast in its commitment to student success and credential completion. Today, with 78,000 students in credit classes, and a total enrollment of more than 90,000, Lone Star College System is the largest institution of higher education in the Houston area and the fastest-growing community college system in the nation. Dr. Stephen C. Head is the chancellor of LSCS, which consists of six colleges including LSC-CyFair, LSC-Kingwood, LSC-Montgomery, LSC-North Harris, LSC-Tomball and LSC-University Park, five centers, LSC-University Center at Montgomery, LSC-University Center at University Park, Lone Star Corporate College, and LSC-Online. To learn more visit LoneStar.edu.
###