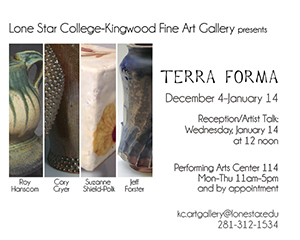 The artwork of four ceramics artists will be on display at Lone Star College-Kingwood's Fine Arts Gallery, Dec. 4 through Jan. 14, 2015 in the Performing Arts Center, room 114. An open house with refreshments will be held on Wednesday, Jan. 14 at noon in the gallery, along with an artist talk by ceramist Jeff Forster.
"Terra Forma" showcases the ceramic works of Cory Cryer, Jeff Forster, Roy Hanscom and Suzanne Shield-Polk as they address the twin dynamics of creativity and chemistry in the process of transforming clay into this ancient art form. Students, local residents and visitors to Houston will have the chance view this multi-artist exhibition and experience the continually evolving state of one of our most pervasive art forms.
About the artists
Jeff Forster grew up in rural Minnesota. He reminisces that as he grew up building forts in the clay deposits on his family's property, clay carries personal and direct references to time. Likewise, he says that historical ceramic objects not only serve as documents of early people, but make evident the rise and fall of civilizations. "For this exhibition, I decided to create work based in the vessel tradition of ceramics. Through the use of studio reclaimed clay and glazes my intent is to highlight the earth as the source of my chosen material. Different colors of clay reference the idea of strata while jagged edges and unglazed clay heighten the sense of earth and stone."
Suzanne Shield-Polk studied ceramics at Southwestern Texas State, earned her BFA in Art History at the University of Texas at Austin and an MFA in ceramics, sculpture and video from California State University, Northridge. She has taught ceramics at LSC-CyFair since it opened in 2003. Her ceramic and mixed media work is comprised of hand-built mid-temperature stoneware with ceramic stains, glazes, sometimes combined with found objects and encaustic wax. Suzanne focuses on using environmentally sustainable practices in the ceramics studio and references concern for the natural environment in her work.
Roy Hanscom is a ceramics professor at Lone Star College-North Harris. He enjoys working with clay because "it is a material that sets no limits, and has practically no boundaries in its ability to adapt to my ideas and designs." Cory Cryer is a professor of art at Lone Star College-Kingwood where she has taught more than 5 years. She received her MFA from Texas Women's University in Denton, Texas. Her work is shown nationally and she has been the recipient of numerous awards.
LSC-Kingwood's Fine Arts Gallery is open Monday through Thursday, 11 a.m.-5 p.m., and closed on weekends. For more information, contact Kris Larson at 281-318-4321 or 281-318-1534 or email kc.artgallery@LoneStar.edu. For more about our upcoming exhibits, please visit the gallery website: LSC-Kingwood Arts.
Register now for credit classes online through myLoneStar. Classes are offered days, evenings, weekends or online. For more information on how to register online, visit LoneStar.edu/registration. For general information about Lone Star College-Kingwood, call 281.312.1600 or visit LoneStar.edu/Kingwood.
Lone Star College has been opening doors to a better community for more than 40 years. Founded in 1973, LSC remains steadfast in its commitment to student success and credential completion. Today, with almost 83,000 students in credit classes, and a total enrollment of more than 95,000, Lone Star College is the largest institution of higher education in the Houston area and one of the fastest-growing community colleges in the nation. Stephen C. Head, Ph.D., is the chancellor of LSC, which consists of six colleges including LSC-CyFair, LSC-Kingwood, LSC-Montgomery, LSC-North Harris, LSC-Tomball and LSC-University Park, seven centers, LSC-University Center at Montgomery, LSC-University Center at University Park, Lone Star Corporate College, and LSC-Online. To learn more visit LoneStar.edu.
####