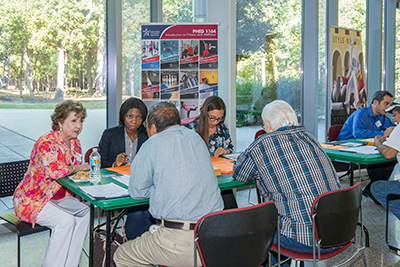 Lone Star College-Kingwood will host its eighth annual Immigration and Citizenship Workshop on Saturday, Oct. 8 from 10 a.m.-12 p.m. in the SCC Building.
Each year, thousands of people around the world have dreams of becoming United States citizens.
To help them achieve their goal, legal permanent residents in the country, interested in becoming citizens, are invited to attend the eighth annual Immigration and Citizenship Workshop at Lone Star College-Kingwood on Saturday, Oct. 8. The workshop is from 10 a.m.-12 p.m. in the John E. Pickleman Student Conference Center (SCC).
This workshop is coordinated through a partnership with the college, the City of Houston's Office of International Communities (OIC), Department of Neighborhoods; Neighborhood Centers Inc. (NCI), and the National Association of Latino Elected and Appointed Officials (NALEO) Educational Fund.
"The immigration forum is an event the college looks forward to every year. Building a stronger relationship with the community is always a goal of the college," said Kristen Johnson, intercultural program coordinator. "We want the community to know that we are truly here to serve them."
At the Immigration and Citizenship Workshop, local attorneys and immigration specialists will speak on a variety of immigration issues. Participants will receive free one-on-one legal and citizenship assistance and information will be available from local service providers. Free citizenship study materials will be provided to those who complete their citizenship application form. The Representation of the Office of the State of Mexico will provide free subsidy of the cost ($680) to file the citizenship application. The subsidy is only for Mexican Citizens who qualify.
"This workshop provides free assistance to legal permanent residents who want to become citizens, need assistance in determining if they qualify and how to fill out their citizenship application form," said Benito Juarez, manager for immigrant and refugee issues with city of Houston's OIC.
In order to receive services, people must be a legal permanent resident for the past five years or three years, but married and living with their spouses who are U.S. citizens. Those interested in receiving assistance at the workshop are asked to bring: green card; social security cards Texas identification card; all passports; address and job history for the past five years; children's names, date of birth, residency card number and address; criminal history, if any; divorce history; selective number if they are between the ages of 18 to 26; and travel history outside the U.S. for the past five years.
"Many legal permanent residents need help in filling out the citizenship form since it's a long application and most people are scare to fill it out," said Rafael Palafox, program associate of civic engagement for the NALEO Educational Fund. "Our goal is to provide help to the community with low income needs. We are also able to provide legal help for free."
To sign up as a volunteer or for more information on the Immigration and Citizenship Workshop, contact Kristen Johnson at 28-312-1791 or Kristen.A.Johnson@LoneStar.edu.
Register now for credit classes online through myLoneStar. Classes are offered days, evenings, or weekends in traditional, Internet, video, TV and independent study formats. For more information on how to register online, visit www.lonestar.edu/registration.
For general information about Lone Star College-Kingwood, call 281.312.1600 or visit http://lonestar.edu/kingwood.htm.
Known for its leadership, innovation and steadfast commitment to student success, Lone Star College provides high-quality academic transfer and workforce education/career training programs to more than 83,000 credit students each semester, and a total enrollment of 95,000 students. LSC is training tomorrow's workforce today and redefining the community college experience to promote student success and economic prosperity. Stephen C. Head, Ph.D., is the chancellor of LSC, the largest institution of higher education in the Houston area, which consists of six colleges, eight centers, two university centers, Lone Star Corporate College and LSC-Online. To learn more visit LoneStar.edu.
###