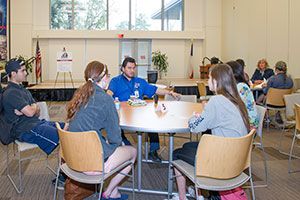 Hugo Aguilar, center, spoke to LSC-Kingwood students as a "human library" at the last event. Originally from Mexico City, he talked about how he became an American citizen. Aguilar is the custodial supervisor at the college.
One-on-one dialogues based on confronting discrimination is the focal point of the Human Library event at Lone Star College-Kingwood.
"The most important thing in a democratic political system, is the need for people who are different to be able to speak to each other, not necessarily to convince them of an opinion, but to work together to try and solve problems in their community," said Dr. John Theis, political science professor at LSC-Kingwood and director of the Center for Civic Engagement.  "People need to hear each other's stories to understand where they are coming from.  The Human Library is a way to have extended discussions with people who are different from you."
Originally developed in Denmark, the Human Library's purpose is to confront racism and other forms of discrimination that takes place in multi-cultural and multi-faceted societies. This unique experience allows students at LSC-Kingwood to "check out" human books, people representing various communities and organizations. The first event took place in October 2014 with 60 human books and 455 students. Due to its huge success, the Human Library will hold its next event on Oct. 27-28 in the Student Conference Center (SCC).
"What I hope to learn from this experience is try to avoid the mistakes the book has made. If they are a certain race, I'm hoping to learn more about their culture instead of perceiving their lifestyle by what others say," said LSC-Kingwood student David Reyna. "The Human Library is important to me because you can gain insightful knowledge from the individuals participating in it."
LSC-Kingwood's library and the Center for Civic Engagement will sponsor the event. A wide-range of subjects will include immigrates, atheists, a rabbi, a nun, alcoholics anonymous members, Palestinians, police officers, people who have been incarcerated and more.
"An interesting life story that I would be most interested in, is a minority who is gay/lesbian/transgender who is struggling to be accepted in today's society where gay marriage is legal, but is not accepted by other peers," Reyna said.
For more information on the Human Library at LSC-Kingwood or to participate as a human book, contact Anthony McMillan at Anthony.J.McMillan@LoneStar.edu  or Dr. John Theis at John.J.Theis@LoneStar.edu. 
Register now for credit classes online through myLoneStar.  Classes are offered days, evenings, or weekends in traditional, Internet, video, TV and independent study formats. For more information on how to register online, visit www.lonestar.edu/registration.
For general information about Lone Star College-Kingwood, call 281.312.1600 or visit http://lonestar.edu/kingwood.htm.
Lone Star College System has been opening doors to a better community for 40 years. Founded in 1973, LSCS remains steadfast in its commitment to student success and credential completion. Today, with 78,000 students in credit classes, and a total enrollment of more than 90,000, Lone Star College System is the largest institution of higher education in the Houston area and the fastest-growing community college system in the nation. Dr. Stephen C. Head is the chancellor of LSCS, which consists of six colleges including LSC-CyFair, LSC-Kingwood, LSC-Montgomery, LSC-North Harris, LSC-Tomball and LSC-University Park, five centers, LSC-University Center at Montgomery, LSC-University Center at University Park, Lone Star Corporate College, and LSC-Online. To learn more visit LoneStar.edu.
###