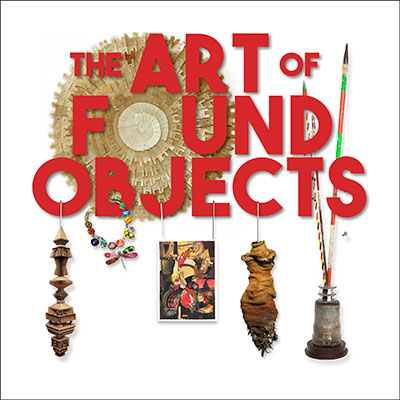 "The Art of Found Objects" exhibition will be on view in LSC-Kingwood's Fine Art Galley Nov. 2-Dec. 12. For more information, call 281-312-1534.
Many items once useful in daily life are discarded, or relegated to scrapbooks or dusty attics. In the artist's mind and hand, these "objets trouvé", French term for found objects, can yield themselves to new iterations and sometimes surprising forms.
Bringing meaning to the expression, "one person's trash is another's treasure", the Fine Art Gallery at Lone Star College-Kingwood presents, "The Art of Found Objects". The exhibit is a celebration of 14 Houston artists included in the newly released, "The Art of Found Objects: Interviews with Texas Artists" by Craig Bunch and Texas A&M University Press. This is the second show of the 2016-2017 semester, and will be on view from Nov. 2-Dec. 12.
"The range of wit and inventiveness employed, as these artists give second life to found objects, is a lively indicator of the broad spectrum of Texas talent," said Kris Larson, director of the LSC-Kingwood Fine Art Gallery.
"The Art of Found Objects" exhibition will feature work by Claire Cusack, Ann Harithas, Joseph Havel, Otis Huband, Sharon Kopriva, Jesse Lott, Edward McCartney, Leila McConnell, Mari Omori, LSC-Kingwood art professor; Kathleen Packlick, Forrest Prince, Russell Prince, Patrick Turk and Debbie Wetmore. A reception for the artists and a book signing with Bunch are scheduled for Thursday, Nov. 3 from 12-2 p.m. in the Fine Art Gallery.
"In March 2015, art professor Mari Omori proposed a show of Houston artists featured in my forthcoming book," Craig Bunch said. "I am thrilled that this has come to fruition in this show and catalogue, and that I have the opportunity to continue my journey of discovery with these artists."
The LSC-Kingwood Fine Art Gallery is open Monday-Thursday from 10 a.m.-3 p.m. It is located in the Performing Arts Center (PAC). For more information about the "The Art of Found Objects" exhibition or other gallery events, email kc.artgallery@lonestar.edu or call 281-312-1534.
Register now for credit classes online through myLoneStar. Classes are offered days, evenings, or weekends in traditional, Internet, video, TV and independent study formats. For more information on how to register online, visit www.lonestar.edu/registration.
For general information about Lone Star College-Kingwood, call 281.312.1600 or visit http://lonestar.edu/kingwood.htm
Known for its leadership, innovation and steadfast commitment to student success, Lone Star College provides high-quality academic transfer and workforce education/career training programs to more than 85,000 credit students each semester, and a total enrollment of 98,000 students. LSC is training tomorrow's workforce today and redefining the community college experience to promote student success and economic prosperity. Stephen C. Head, Ph.D., is the chancellor of LSC, the largest institution of higher education in the Houston area, which consists of six colleges, eight centers, two university centers, Lone Star Corporate College and LSC-Online. To learn more visit LoneStar.edu.
###