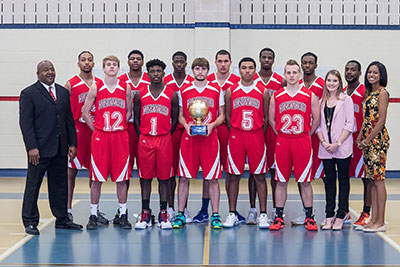 LSC-Kingwood's Sport Club Basketball program recently won the Lone Star Sport Club Conference Basketball Championship.
Lone Star College-Kingwood's Sport Club Basketball program is winning on and off the court.
Recently, the team won the Lone Star Sport Club Conference Basketball Championship when they beat LSC-Tomball, 53-24. LSC-Kingwood is currently 10-1 in the Lone Star College System's Sport Club Fall 2016 League and will be the first place contender in the spring 2017 league. In addition to their winning season, LSC-Kingwood athletes boast a cumulative GPA above 3.0.
"Player commitment, sacrifice and time management are the key reasons why our team was successful this season," said Melvin Marks, head coach. "We stress that education is first and second - winning is third. We believe that hard work pays off!"
The Lone Star College Sport Club Conference, which started in 2005, is a highly competitive program with teams representing LSCS campuses along with other colleges/universities in the surrounding area. Since the 2008-2009 season, LSC-Kingwood has won six championship titles and have become regular participants in conference postseason play. In addition to the LSCS teams, other colleges that competed were Houston Community College, University of Houston-Downtown, Rice University, Texas Southern University, Houston Baptist University, Sam Houston State University, Stephen F. Austin University and Texas A&M University.
"This conference allows students to compete in competitive sports in a positive environment," said J Weathersby, assistant coach. "It creates on campus activities for our students as well as our faculty and staff. It also brings others to our campus."
The LSC-Kingwood Sport Club Basketball program practices two days a week. On those days, players show a strong commitment to work extremely hard through various drills and weight conditioning exercises. The athletes are not just playing a sport, they are developing team work, dedication and passion for what they do. Each player is learning valuable skills, knowledge and tools that they can use to become a successful leader or team member.
"We are concerned about the students' total education, not just their physical education. Our basketball coaches dedicate themselves to seeing that all athletes reach their potential on and off the court," Marks said. "We (coaches) stress dual commitment to athletics and academics that ensures the total development of the players on the team."
LSC-Kingwood Sport Club Basketball athletes are Jalen Bolden, Tyler McCarty, Julian Thomas, Warren Richardson, Tim Tyler, Jeremiah Bethea, Will House, Adam Heilers, Joshua Conklin, Rickey Felder, Amir Olmos and Tavyon Moore. The coaching staff consists of Melvin Marks head coach; J Weathersby, assistant coach; Heather Roy, student assistant; and Roxy Rainford, manager. For more information on the LSC-Kingwood Sport Club Basketball program or other sports clubs and activities, visit http://www.lonestar.edu/sports-kingwood.htm.
Register now for credit classes online through myLoneStar. Classes are offered days, evenings, or weekends in traditional, Internet, video, TV and independent study formats. For more information on how to register online, visit www.lonestar.edu/registration.
For general information about Lone Star College-Kingwood, call 281.312.1600 or visit http://lonestar.edu/kingwood.htm
Lone Star College offers high-quality, low-cost academic transfer and career training education to 98,000 students each semester. LSC is training tomorrow's workforce today and redefining the community college experience to support student success. Stephen C. Head, Ph.D., serves as chancellor of LSC, the largest institution of higher education in the Houston area with an annual economic impact of $3.1 billion. LSC consists of six colleges, eight centers, two university centers, Lone Star Corporate College and LSC-Online. To learn more visit LoneStar.edu.
###