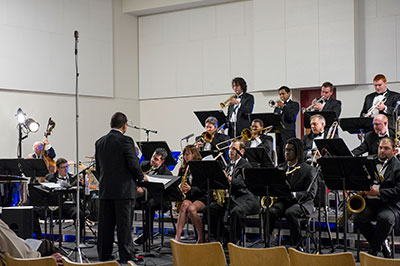 LSC-Kingwood's Big Band will present its 5th annual Jazz Festival on March 4 at 7:30 p.m. in the Student Conference Center (SCC).
Music lovers are invited to an evening of big band jazz at Lone Star College-Kingwood.
The Kingwood Big Band, under the direction of Alfredo Vélez, will present its 5th annual Jazz Festival on March 4 at 7:30 p.m. in Lone Star College-Kingwood's Student Conference Center (SCC). This year's festival will feature three-time Grammy nominated and prominent trombonist Conrad Herwig. Prior to the main event, the public is invited to attend a master class at 4 p.m. featuring Herwig and a small ensemble. High school bands will enjoy various festivities throughout the day. The event is sponsored by the Lake Houston Musical Arts Society (LHMAS).
"Bringing great artists like Conrad to our community not only meets the goals and vision of the Society, but also helps grow the partnership between LSC-Kingwood and LHMAS. We are very excited to have Conrad Herwig with us this year," Vélez said.
Herwig is considered one of the world's complete jazz musicians, atop both the performing and jazz educational fields with an abundance of composer and arranger credits. According to his bio, the musician released 20 recordings as a band leader in addition to contributing to nearly 200 other recording sessions with some of the most notable artists in jazz. He has performed and recorded with Miles Davis, Joe Henderson, Eddie Palmieri, Tito Puente, Frank Sinatra and Joe Lovano, among many others. Herwig continues to draw the attention of his academic colleagues, so much so, that he receives ongoing requests to serve as an artist-in-resident as well as guest artist/soloist at college and university jazz festivals around the world. For additional information on Herwig, visit http://www.conradherwig.com/.
The Kingwood Big Band began 12 years ago and is a part of the Lake Houston Musical Arts Society. The 18-piece big band is comprised of a local doctor, engineer, wine salesman, and professor, combined with numerous music teachers and professional players from the north part of Houston. The band rehearses and performs at LSC-Kingwood.
Tickets to the Jazz Festival are $15 for general admission and $10 for students and senior citizens age 55 and older. Tickets are available online or at the door. For more information on the Jazz Festival or to participate in the festival, contact Alfredo Vélez, director of band at LSC-Kingwood, at Alfredo.Velez@LoneStar.edu or 281-318-4335. For ticket information, visit www.lhmas.org or call 832-779-1492.
Register now for credit classes online through myLoneStar. Classes are offered days, evenings, or weekends in traditional, Internet, video, TV and independent study formats. For more information on how to register online, visit www.lonestar.edu/registration.
For general information about Lone Star College-Kingwood, call 281.312.1600 or visit http://lonestar.edu/kingwood.htm
Lone Star College offers high-quality, low-cost academic transfer and career training education to 98,000 students each semester. LSC is training tomorrow's workforce today and redefining the community college experience to support student success. Stephen C. Head, Ph.D., serves as chancellor of LSC, the largest institution of higher education in the Houston area with an annual economic impact of $3.1 billion. LSC consists of six colleges, eight centers, two university centers, Lone Star Corporate College and LSC-Online. To learn more visit LoneStar.edu.
###