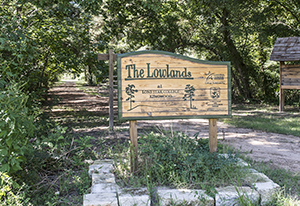 Although a quality education is its main goal, Lone Star College-Kingwood also strives to teach sustainability through various green measures.
One of those programs is the development of the college's Lowlands Nature Trails and Boardwalks. The area encompasses 200 acres of bottomland hardwood forest and lowlands between the campus and the San Jacinto River on Sorters Road. It is home to seven distinct nature habitats; has been classified as a birding hotspot by Cornell University's website, e-Bird; and has 11 geocaching sites.
"The Lowlands are open to the public and are popular for biking, jogging, walking, nature photography, and monthly bird walks. It has been called, 'a gem of a resource so close to a major city'," said David Burre, sustainability program manager. "A 200-foot walk to the end of a boardwalk places the visitor in a quiet, secluded natural setting, which is seldom experienced in a city or in many rural locations."
To celebrate this access to nature, the campus and community are invited to a ribbon cutting ceremony on Saturday, Nov. 16 from 10 a.m.-12 p.m. at The Lowlands. The event will feature exhibits from area parks and greenbelts, birders, and master naturalists.
The ceremony will allow visitors to see the initial work completed through the Partners for Fish and Wildlife Program with the U.S. Fish and Wildlife Service. The matching grant provided for habitat improvement, educational venues, and enhanced public access to half the area, which is north of Evans Gully. Per the agreement, LSC-Kingwood must maintain the project for 10 years.
"The Lowlands Nature Trails and Boardwalks contain important habitats in nature. It has both dry land and aquarian species and its nutrients," Burre said. "It provides flood storage in the flood plain, allows for uninhibited flow in the floodway, and improves water quality by filtration."
The work completed through the U.S. Fish and Wildlife Service consisted of making one-third mile of the existing Evans Gully Trail ADA compliant and improving the remaining three-quarter miles; constructing three 200-foot ADA compliant boardwalks with decks at the end, and a trail side observation deck; eradicating invasive Chinese Tallow trees and Japanese Honeysuckle vines; and replanting new trees and shrubs for habitat and erosion control. In addition, interpretive signs with QR Codes and 0.1 mile distance markers were erected and benches were built. Once all work was completed, the boardwalk and deck designs were reviewed by a Montgomery County engineer and a flood plan development permit was issued.
"Except for framing the boardwalks and decks, and the invasive eradication, all of the work was done by college students, campus clubs, faculty, staff, community groups, and Boy Scout troops," Burre said.
Most of LSC-Kingwood's Lowlands Nature Trails and Boardwalks are in the flood plan and half in the floodway. It is transected by Evans Gully, which receives urban drainage and the effluent from an adjacent sewage treatment plant. Since the college's existence, there have been two maintained trails that lead to the San Jacinto River. A third trail has recently been cut along the south bank of Evans Gully and connects to the Old Bus Trail.
For more information on the Lowlands Nature Trails and Boardwalks or the ribbon cutting ceremony, contact David Burre at 281-312-1788 or David.L.Burre@LoneStar.edu.
Register now for credit classes online through myLoneStar. Classes are offered days, evenings, or weekends in traditional, Internet, video, TV and independent study formats. For more information on how to register online, visit www.lonestar.edu/registration.
For general information about Lone Star College-Kingwood, call 281.312.1600 or visit http://lonestar.edu/kingwood.htm.
Lone Star College System has been opening doors to a better community for 40 years. Founded in 1973, LSCS remains steadfast in its commitment to student success and credential completion. Today, with 78,000 students in credit classes, and a total enrollment of more than 90,000, Lone Star College System is the largest institution of higher education in the Houston area and the fastest-growing community college system in the nation. Dr. Richard Carpenter is the chancellor of LSCS, which consists of six colleges including LSC-CyFair, LSC-Kingwood, LSC-Montgomery, LSC-North Harris, LSC-Tomball and LSC-University Park, five centers, LSC-University Center at Montgomery, LSC-University Center at University Park, Lone Star Corporate College, and LSC-Online. To learn more visit LoneStar.edu.
###