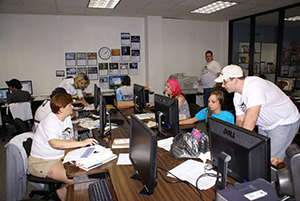 Nonprofit organizations in the community in need of brochures, logos or other promotional materials can sign up to be a part of the Visual Communication's 11th annual Design-A-Thon at Lone Star College-Kingwood.
Design-A-Thon 2014 will take place Friday, April 11 from 8 a.m.-8 p.m. in the Administration Building, Room 204-A. The 12-hour event allows nonprofits a chance to receive free graphic design work while the students earn community service learning credit, design pieces for their portfolio and experience a great and rewarding opportunity.
"For the past 10 years we've had hundreds of students donate countless work hours to benefit local nonprofits, and each year the number of organizations continues to grow," said Shawn Sedoff, lead faculty and visual communications professor.
"It really is a fun event for the students. They are here for 12 straight hours with caffeine flowing through their bloodstreams and since at times it can seem tough, we try to create an atmosphere that is both creative and fun to work in."
The Design-A-Thon was created for the sole purpose of reaching out to the local community, specifically, local area nonprofit organizations. These are normally organizations that do not have the time, resources, or the ability to create effective promotional materials to help make the community aware of who they are, why they exist and what they have to offer. Projects that will be accepted are logos/stationary, fliers, posters, banners, book covers, in-store displays, advertisements, brochures, CD jackets, thank you cards, invitations and web pages.
"Nonprofits can submit as many projects as they want, but we ask that they list them in order of priority. Since we want to try and help as many as we can, we will work on all of the main priority items first and then if time allows, we will take the next priority item on the list and so on," Sedoff said. "What determines how far we get is the number of students we have and how long it takes them to complete each project, which can be anywhere from 15 to 30 projects or more."
For general information about Design-A-Thon contact Shawn Sedoff at 281-312-1742 or at Shawn.G.Sedoff@lonestar.edu.
Lone Star College System has been opening doors to a better community for 40 years. Founded in 1973, LSCS remains steadfast in its commitment to student success and credential completion. Today, with 78,000 students in credit classes, and a total enrollment of more than 90,000, Lone Star College System is the largest institution of higher education in the Houston area and one of the fastest-growing community college systems in the nation. Dr. Richard Carpenter is the chancellor of LSCS, which consists of six colleges including LSC-Cy Fair, LSC-Kingwood, LSC-Montgomery, LSC-North Harris, LSC-Tomball and LSC-University Park, seven centers, LSC-University Center at Montgomery, LSC-University Center at University Park, Lone Star Corporate College, and LSC-Online. To learn more visit LoneStar.edu.
###