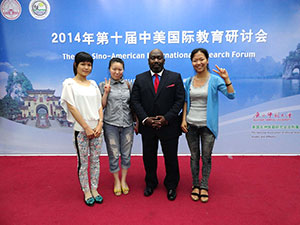 Dr. Darrin Rankin presented his research and message at a Research Symposium at Guangxi Normal University in Guilin, China. Pictured with Rankin are students who attended the symposium in China.
Since Dr. Darrin Rankin entered the education arena almost 30 years ago, his mission has been to provide quality resources to help students achieve their goals.
Taking the helm as Lone Star College-Kingwood's vice president of student success, Rankin has demonstrated a strong commitment to addressing the educational, personal development and enrollment-related needs of students. His primary focus is to assure access and success for first-generation college students and those who are under-represented in higher education.
"The matter of both student access and success is critical for the United States," Rankin said. "Education is one of the most important things people can do to ensure a better life for them, their families and their communities."
To reach a broader audience with his message, Rankin was selected by the National Association of African American Studies and Affiliates (NAAAS) to participate in its International Research Conference. In July, he will present his personal research and work on "The History of Racial Diversity In The American System of Higher Education" at the University of Madras in Chennai, India. Rankin did similar presentations for NAAAS in 2014 in China and in 2011 in South Africa.
"I am excited to present my findings internationally and to learn from other countries what they are doing in the way of student success." I am looking forward to identifying similarities in this regard," he said.
Prior to joining LSC-Kingwood in July 2010, Rankin served at eight institutions of higher learning and has earned both a national and international reputation of being a leader in education. He is regularly sought out nationally as a speaker for student-related and professional events.
Rankin's educational background includes earning, with honors, a Bachelor of Arts degree from Loyola University, a Master of Science degree in Higher Education Administration with an emphasis on Student Personnel Services from Syracuse University, and a Ph.D. in Higher Education Administration with an emphasis on Urban Higher Education from Jackson State University.
Register now for credit classes online through myLoneStar. Classes are offered days, evenings, or weekends in traditional, Internet, video, TV and independent study formats. For more information on how to register online, visit www.lonestar.edu/registration.
For general information about Lone Star College-Kingwood, call 281.312.1600 or visit http://lonestar.edu/kingwood.htm
Known for its leadership, innovation and steadfast commitment to student success, Lone Star College provides high-quality academic transfer and workforce education/career training programs to more than 83,000 credit students each semester, and a total enrollment of 95,000 students. LSC is training tomorrow's workforce today and redefining the community college experience to promote student success and economic prosperity. Stephen C. Head, Ph.D., is the chancellor of LSC, the largest institution of higher education in the Houston area, which consists of six colleges, eight centers, two university centers, Lone Star Corporate College and LSC-Online. To learn more visit LoneStar.edu.
###