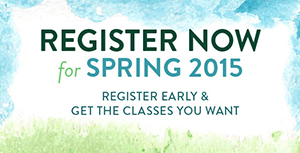 With the fall semester nearly completed, students can continue planning their educational career at Lone Star College-Kingwood or LSC-Atascocita Center.
Current and future students can register now for the spring 2015 semester. Registration for the 16-week spring semester will end on Jan. 10 and classes will start on Jan 12. Courses are designed to fit a broad range of academic goals toward certificates, associate's degrees or university transfer. To assure the best selection, students are encouraged to register as early as possible. Students must enroll before the first class meets.
Spring credit courses offered at LSC-Kingwood include accounting, animation, anatomy and physiology, anthropology, arts, astronomy, biology, business, business ethics, business management, chemistry, commercial photography, computer information technology, cosmetology and facial, criminal justice, dance, dental hygiene, digital video, drama, economics, education, English, engineering, environmental science, EMT, ESOL, foreign languages, game design and simulation, geography, geology, government, health information technology, history, humanities, interior design, introduction to computers, kinesiology, logic design, management, math, music, nursing, nutrition, occupational therapy, philosophy, professional office technology, psychology, respiratory care, sign language, sociology, speech, teaching, vocational nursing, web design, and more.
LSC-Atascocita Center has 86 different sections being offered with the majority of them meeting core and associate of arts degree requirements. Students can register for accounting, art, anatomy and physiology, biology, business, certified nurse aid, criminal justice, economics, English, fitness and wellness, government, history, humanities, introduction to computers, introduction to engineering, literature, math, philosophy, psychology, SAT prep, sociology, speech, and theatre.
Continuing Education classes available include accounting, ALL courses, alternative teacher certification program, art, autocad, certified nurse aid, cisco exploration, citizenship preparation, computer technology, CPR, dance, dental assisting, design communications, digital imaging, digital publishing, electrocardiography, ESOL, excel, foreign languages, integrating technology, kinesiology, music, phlebotomy, Photoshop, reading and writing series, SAT preparation, scuba diving, substitute teaching training, TExES exam prep courses, web graphics, and word.
LSC-Kingwood is located at 20000 Kingwood Drive. Call 281-312-1600 for more information. LSC-Atascocita Center is located at 15903 West Lake Houston Parkway. For more details, call 832-775-0800. To register online, visit www.lonestar.edu/registration.
Lone Star College has been opening doors to a better community for more than 40 years. Founded in 1973, LSC remains steadfast in its commitment to student success and credential completion. Today, with almost 83,000 students in credit classes, and a total enrollment of more than 95,000, Lone Star College is the largest institution of higher education in the Houston area and one of the fastest-growing community colleges in the nation. Stephen C. Head, Ph.D., is the chancellor of LSC, which consists of six colleges including LSC-CyFair, LSC-Kingwood, LSC-Montgomery, LSC-North Harris, LSC-Tomball and LSC-University Park, seven centers, LSC-University Center at Montgomery, LSC-University Center at University Park, Lone Star Corporate College, and LSC-Online. To learn more visit LoneStar.edu.
####