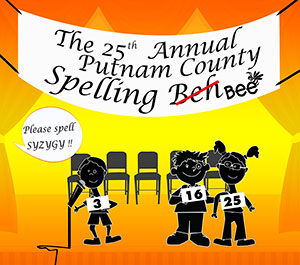 The community is invited to LSC-Kingwood's production of "The 25th Annual Putnam County Spelling Bee" on Feb. 25-27 at 7:30 p.m. and Feb. 27-28 at 2 p.m. on the PAC Main Stage.
Six young teens explore their challenging lives while trying to win a spelling bee.
This is not a new reality television show…it is the plot for Lone Star College-Kingwood's spring production of "The 25th Annual Putnam County Spelling Bee." Recommended for patrons over the age of 13, the musical will be held Feb. 25-27 at 7:30 p.m. and Feb. 27-28 at 2 p.m. on the Performing Arts Center (PAC) Main Stage.
"This show was on Broadway from 2005-2008. It has been very popular for colleges to produce and we are excited to present this comedic musical to the community," said Eric Skiles, artistic director and theatre professor at LSC-Kingwood.
"The 25th Annual Putnam County Spelling Bee" focuses on an eclectic group of six mid-pubescents who vie for the spelling championship of a lifetime. Logainne Schwartzandgrubenierre, Chip Tolentino, Olive Ostrovsky, William Barfeé, Leaf Coneybear and Marcy Park, face common fears of early adolescents such as acceptance, popularity, family issues, self-worth and romantic love. While candidly disclosing hilarious and touching stories from their home lives, the tweens spell their way through a series of words hoping to never hear the soul-crushing, pout-inducing, life un-affirming "ding" of the bell that signals a spelling mistake.
"We haven't produced a musical in two years. It was time for a fun musical with lots of energy," Skiles said. "It is the right size for our department and stage. It is also great for our community."
The cast is comprised of nine characters played by college students and the community. The actors and their roles are Elizabeth Walker as Logainne Schwartzandgrubenierre; Lauryn Ferguson plays Marcy Park; Austin Colburn as Chip Tolentino; Daniel Robnett plays Leaf Coneybear; Christian Peck as William Barfeé; Brianna Steptoe plays Olive Ostrovsky; Daniel Calderon as Mitch Mahoney; Wendy Jones plays Rona Lisa Perretti and Eric Skiles as Douglas Panch. On the production crew are Corey Bischalaney, student and stage manager; Kimberly Dowden, student and assistant stage manager; and Kalliope Vlahos, faculty and designer.
Tickets to "The 25th Annual Putnam County Spelling Bee" are $17 for general admission, $14 for seniors 55 and older, and $7 for students. Tickets can be purchased at www.lonestar.edu/seasons or at www.facebook.com/LSCKFineArts. For more information on the production, call 281-312-1532.
Register now for credit classes online through myLoneStar.  Classes are offered days, evenings, or weekends in traditional, Internet, video, TV and independent study formats. For more information on how to register online, visit www.lonestar.edu/registration.
For general information about Lone Star College-Kingwood, call 281.312.1600 or visit http://lonestar.edu/kingwood.htm.
Lone Star College System has been opening doors to a better community for 40 years. Founded in 1973, LSCS remains steadfast in its commitment to student success and credential completion. Today, with 78,000 students in credit classes, and a total enrollment of more than 90,000, Lone Star College System is the largest institution of higher education in the Houston area and the fastest-growing community college system in the nation. Dr. Stephen C. Head is the chancellor of LSCS, which consists of six colleges including LSC-CyFair, LSC-Kingwood, LSC-Montgomery, LSC-North Harris, LSC-Tomball and LSC-University Park, five centers, LSC-University Center at Montgomery, LSC-University Center at University Park, Lone Star Corporate College, and LSC-Online. To learn more visit LoneStar.edu.
###