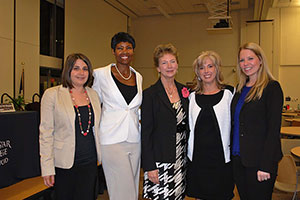 LSC-Kingwood will have its last STEM Women Career Night on May 4 from 6-8:30 p.m. Pictured are STEM professionals who spoke at the second event on April 14: Dr. Gabriela Alvez-Manoli, Chevron Phillips research chemist; Cheryl Ash Simpson, engineer; Dr. Katherine Persson, LSC-Kingwood president; Earin Persson, IBM client delivery manager; and Megan Marietta, Kingwood Medical Center chief operating officer.
While there has been an increase in the number of women who have successfully worked in the science, technology, engineering and math (STEM) industry in the past 40 years, more are needed.
According to the United States Census Bureau, women's representation in the trade still remain significantly underrepresented in various fields that make up 80 percent of all STEM employment. To further increase the number, Lone Star College-Kingwood invites students and the community to its last STEM career night on May 4 from 6-8:30 p.m. in the Student Conference Center. The series is sponsored by the Women's Center, the Career Center and the Intercultural Center.
"Our goal is to have successful career women serve as role models, information sources and motivators for parents and young women in college, high school, middle school and the community who want to pursue a career in STEM fields," said Diane Blanco, Women's Center director.
Tracy Borgmeyer, chemical engineer; Dr. Priscilla Milam Smith, IT professional; and Dr. Yemi Oyerinde, research chemist; will share their experiences to encourage more females to enter these professions, where women represent less than one-third of those in the field.
Borgmeyer is an engineer and a mom who writes about inspiring girls to be curious and confident about science. She has worked in the offshore oil industry as a project engineer and supervisor. Her engineering passion is process safety which is ensuring safe and reliable operations. Borgmeyer also blogs at www.SheLovesScience.com, which gives readers simple and easy ways to try out fun science experiments at home. She is also the author of a book, "She Loves Science:  A Mother's guide to Nurturing her daughter's curiosity, confidence, and creativity".
"I hope to help moms (and parents) inspire their girls to love science and encourage their natural curiosity and creativity to become future problem solvers. Parents need simple ways to help their daughters and to make sure she has the confidence to pursue science and engineering," Borgmeyer said. "I believe engineering is a career path that will change the world and help other people tremendously and girls should be a part of that."
Smith is an informational technology (IT) professional with more than 30 years of IT operations experience. Smith has a deep background in IT infrastructure and application support.  She has created operational processes and delivered solutions on information technology in the marketing, trading and oil and gas industries and currently serves as delivery manager for the Global Service Center.  Smith earned a bachelor's degree and masters in computer science from Texas A&M University and has a doctorate from Oklahoma State University.  She has presented at regional conferences on IT best practices and was a finalist for the International IT Service Management Thought Leadership Award in 2016.
"My hope is to inspire women to challenge themselves in a male-dominated world," Smith said. "By including more women in STEM careers, it will bring diversity of thought and inclusion of disparate ideas that are critical to the success of global organizations."
A native from Nigeria, Oyerinde has worked as a research chemist at Chevron Phillips since 2014. Prior, she worked at Celanese Chemicals. As a research chemist, Oyerinde's work centers on catalysis for commercial chemical processes. She earned a PhD in biophysical chemistry from Princeton University in 2007.
For more information on the STEM series, contact Diane Blanco at 281-318-4332 or email Diane.K.Blanco@LoneStar.edu.
Register now for credit classes online through myLoneStar.  Classes are offered days, evenings, or weekends in traditional, Internet, video, TV and independent study formats. For more information on how to register online, visit www.lonestar.edu/registration.
For general information about Lone Star College-Kingwood, call 281.312.1600 or visit http://lonestar.edu/kingwood.htm.
Lone Star College System has been opening doors to a better community for 40 years. Founded in 1973, LSCS remains steadfast in its commitment to student success and credential completion. Today, with 78,000 students in credit classes, and a total enrollment of more than 90,000, Lone Star College System is the largest institution of higher education in the Houston area and the fastest-growing community college system in the nation. Dr. Stephen C. Head is the chancellor of LSCS, which consists of six colleges including LSC-CyFair, LSC-Kingwood, LSC-Montgomery, LSC-North Harris, LSC-Tomball and LSC-University Park, five centers, LSC-University Center at Montgomery, LSC-University Center at University Park, Lone Star Corporate College, and LSC-Online. To learn more visit LoneStar.edu.
###