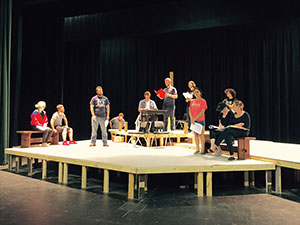 LSC-Kingwood's drama students and community actors will perform in the college's production of "The Crucible" Oct. 29-31 at 7:30 p.m. and Oct. 31-Nov. 1 at 2 p.m. on the PAC Main Stage.
Just in time for Halloween, the infamous Salem witch trials will be reenacted by Lone Star College-Kingwood's drama students and community actors.
The college community and public are invited to LSC-Kingwood's production of "The Crucible" Oct. 29-Oct. 31 at 7:30 p.m. and Oct. 31-Nov. 1 at 2 p.m. on the campus's Performing Arts Center (PAC) Main Stage. The production's plot revolves around the witchcraft hysteria that plagued Salem, MA and splits the town into those who use the trials for their own ends and those who desire the good of the society.
"'The Crucible' was chosen as our main stage production for this fall semester for multiple reasons.  It is an amazingly written play by one of the greatest playwrights of all time, Arthur Miller.  It has wide audience appeal," said Kalliope Vlahos, director.  "The general subject matter and themes within the play are very appropriate to help reflect some of the happenings in our country and around the world."
This play, which will hit the college's stage for the first time, was also chosen to highlight the repetitive nature of this style of hysteria that courses through history as humankind. It explores many topics such as love, lust, honor, betrayal and as well as the concept of right, wrong and the gray area in between.
"Our production of 'The Crucible' is a highly entertaining and thought provoking performance that many students and community members assisted in producing," Vlahos said.  "In viewing this play, the community will not only have an amazing experience, but they will be directly benefiting the students in our program with their ticket purchases- the profit all goes back to the students, via scholarships and/or the production of future plays!"
The cast is comprised of 11 LSC-Kingwood students and five community members. Actors and their roles are Seth Carter Ramsey as John Proctor; Garret Cross plays Reverend John Hale; Christian Peck as Reverend Parris; William Gold plays Judge Danforth; Carl Hailey as Giles Corey; Marcus Rodriguez plays Thomas Putnam; Daniel Robnett as Ezekiel Cheever; Chris Wofford plays Judge Hathorne; Hailey Orman as Abigail Williams; Sandra Peck plays Elizabeth Proctor; Devinne English as Tituba; Seah Fitzgerald plays Mary Warren; Ashlee Lopez as Rebecca Nurse; Kimberly Dowen plays Ann Putnam; Jordan Everett as Betty Parris and Lauryn Ferguson plays Mercy Lewis. The stage crew consists of Kalliope Vlahos, who is also the production designer; Angie Spargur in audience relations/box office; Corey Bischalaney as stage manager; Ruben Sanchez as master carpenter; Joshua McElroy as light board operator; Courtney Mahle as sound board operator and Simone McQuitty as box office lead.
Tickets to "The Crucible" are $14 for general admission, $12 for senior citizens (age 55 and older) and $7 for students. For more information on this production or to purchase tickets, call 281-312-1532, visit www.lonestar.edu/seasons. 
Register now for credit classes online through myLoneStar.  Classes are offered days, evenings, or weekends in traditional, Internet, video, TV and independent study formats. For more information on how to register online, visit www.lonestar.edu/registration.
For general information about Lone Star College-Kingwood, call 281.312.1600 or visit http://lonestar.edu/kingwood.htm.
Lone Star College System has been opening doors to a better community for 40 years. Founded in 1973, LSCS remains steadfast in its commitment to student success and credential completion. Today, with 78,000 students in credit classes, and a total enrollment of more than 90,000, Lone Star College System is the largest institution of higher education in the Houston area and the fastest-growing community college system in the nation. Dr. Stephen C. Head is the chancellor of LSCS, which consists of six colleges including LSC-CyFair, LSC-Kingwood, LSC-Montgomery, LSC-North Harris, LSC-Tomball and LSC-University Park, five centers, LSC-University Center at Montgomery, LSC-University Center at University Park, Lone Star Corporate College, and LSC-Online. To learn more visit LoneStar.edu.
###