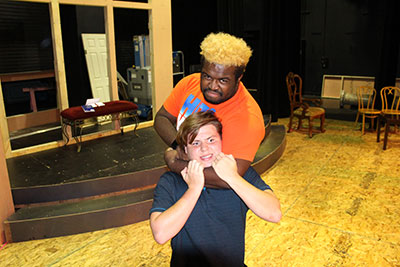 LSC-Kingwood students Prince Winbush III, back, and Kullen Pope enjoy some comedic relief as they practice the "murders" for the upcoming production of "The Mousetrap".
Mystery enthusiasts and theatre lovers are encouraged to dust off their detective hats and attend the fall 2016 production at Lone Star College-Kingwood.
LSC-Kingwood's Theatre Department invites the community, employees and students to Christie Agatha's "The Mousetrap". The "whodunit" production will run Oct. 20-22 at 7:30 p.m. and Oct. 22-23 at 2 p.m. on the college's Performing Arts Center (PAC) Main Stage. This is the first time that the show will be performed at the college.
"We haven't done a murder mystery in years," said Eric C. Skiles, professor and artistic director of theatre. "This is the longest running play in history. It started in London's West End in 1952 and has been running continuously since then. So far, there have been approximately 26,000 performances at the same theatre in London. What an incredible legacy for Christie!"
"The Mousetrap" features a group of strangers who are stranded in a guest house during a snow storm, one of whom is a murderer. Into their midst, comes a policeman traveling on skis searching for the killer. He no sooner arrives when another guest is killed…two down and one to go.
"This is a fun look at the murder mystery genre – it is written by one of the most famous murder mystery writers of all time, Agatha Christie," Skiles said.
In the production, Mollie and Giles Ralston run the guest house. Detective Sergeant Trotter is the policeman who arrives to solve the murder. The cast and crew are comprised of students, future students, alumni and community members. The actors are: alumni Jordan Dulaney as Mollie Ralston; student Prince Winbush III plays Giles Ralston; student Kullen Pope as Christopher Wren; future student Ariana Gonzalez plays Mrs. Boyle; community member Will Gold as Major Metcalf; student Katelyn Bauer plays Miss Casewell; student John Tingley as Mr. Paravicini; and alumni Carl Hailey plays Detective Sergeant Trotter. The production crew includes student Taylor Kenney as stage manager; faculty Eric C. Skiles as director; and staff Kalliope Vlahos as scenic, lighting and sound director.
LSC-Kingwood's 2016-2017 theatre season will celebrate female playwrights. The theme will highlight talented female playwrights who have been overlooked throughout theatre history.
"We thought it would be nice to focus on them this season to demonstrate that their creative work is just as entertaining and well-written as their male counterparts," Skiles said.
Tickets for "The Mousetrap" are $14 for general admission, $12 for seniors age 55 and older, and $7 for students. Tickets can be purchased online at www.lonestar.edu/seasons or on Facebook at LSCKTheatre. For more information, email kwbox@lonestar.edu or call the box office at 281-312-1532.
Register now for credit classes online through myLoneStar. Classes are offered days, evenings, or weekends in traditional, Internet, video, TV and independent study formats. For more information on how to register online, visit www.lonestar.edu/registration.
For general information about Lone Star College-Kingwood, call 281.312.1600 or visit http://lonestar.edu/kingwood.htm
Known for its leadership, innovation and steadfast commitment to student success, Lone Star College provides high-quality academic transfer and workforce education/career training programs to more than 83,000 credit students each semester, and a total enrollment of 95,000 students. LSC is training tomorrow's workforce today and redefining the community college experience to promote student success and economic prosperity. Stephen C. Head, Ph.D., is the chancellor of LSC, the largest institution of higher education in the Houston area, which consists of six colleges, eight centers, two university centers, Lone Star Corporate College and LSC-Online. To learn more visit LoneStar.edu.
###