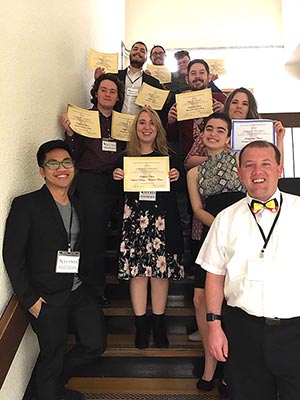 Lone Star College's Kingwood's trophy case just became crowded after its fall 2018 production won top honors at an annual competition.
The Theatre Department's version of "The Complete Works of William Shakespeare (abridged) [revised]" achieved a "Superior" (highest rating) at the Texas Community College Speech and Theatre Association (TCCSTA) Play Festival on Feb. 23. This event is the benchmark for professionalism in theatre production at the two-year college level.
"We do not compete against the other colleges, but against a very demanding set of performance standards. To receive a 'Superior' rating means we have created and performed a show that is comparable to professional-level theatre," said Eric Skiles, artistic director and professor of theatre at LSC-Kingwood. "This level of award affirms that we are teaching our students to be professionals, and that they are succeeding in their studies at a very high level."
LSC-Kingwood students Ibrahim Refahi, Gaylen Hunt, and Matthew Camidge along with community member Bruce Arrick received Superior for their acting. Refahi earned "Professor's Choice – Outstanding Performance," and Camidge earned "Audience's Choice – Outstanding Performance." The technical crew members (students) also achieved high rankings from respondents and professors. Taylor Kenney, stage manager, earned Superior (only six awarded) and Excellent for technical presentation. Ariana Gonzalez, assistant stage manager, received two Excellent ratings in which one was for technical presentation. Marissa Mascolo, wardrobe mistress, attained Superior for technical presentation, the top score for LSC-Kingwood.
LSC-Kingwood's Theatre Department strives to create high-level, professional-looking productions. In the 10 years that the department has attended TCCSTA's Play Festival, it has earned six superior production ratings, three excellent production ratings, three Greg Schneider Memorial awards for technical excellence, and two Bill Morton Challenge awards for acting.
"We are thrilled to attend the Play Festival each year and celebrate theatre with our colleagues from around the state of Texas," Skiles said. "Our students get a chance to learn more about theatre from the other productions and the technical presentation given by their state-wide peers."
The next production at LSC-Kingwood is Dan Goggin's "Nunsense." It will run May 15-18 at 7:30 p.m. on the APA Main Stage. Tickets are $17 for general admission, $14 for seniors 55 and older, and $7 for students. For more information, visit www.lonestar.edu/seasons or call 281-312-1532.
Register now for credit classes online through myLoneStar. Classes are offered days, evenings, or weekends in traditional, online and hybrid formats. For more information or to register online, visit www.lonestar.edu/registration. For general information about Lone Star College-Kingwood, call 281.312.1600 or visit http://lonestar.edu/kingwood.
Lone Star College offers high-quality, low-cost academic transfer and career training education to 99,000 students each semester. LSC is training tomorrow's workforce today and redefining the community college experience to support student success. Stephen C. Head, Ph.D., serves as chancellor of LSC, the largest institution of higher education in the Houston area with an annual economic impact of nearly $3 billion. LSC consists of six colleges, 10 centers, two university centers, Lone Star Corporate College and LSC-Online. To learn more, visit LoneStar.edu.
###