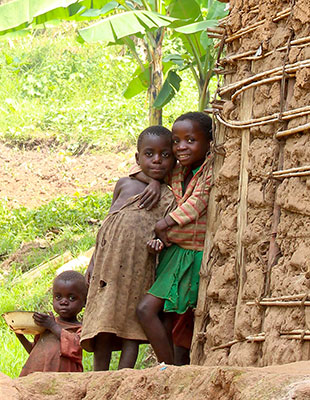 This photo depicts the Batwa people's life in Uganda. This picture is one of many that will be featured in "The Edge of Eden" art exhibit at LSC-Kingwood.
The chronicles of Uganda's indigenous peoples are subjects of the first spring 2017 art show at Lone Star College-Kingwood.
"The Edge of Eden" is a collection of photographs and video by biologist and documentarian Wendee Nicole. Her works depict her newly established efforts in Uganda. The art exhibit, on display from Jan. 10-Feb. 7, will show how the Batwa people struggled to survive and thrive after their forest homelands were turned into the Bwindi Impenetrable National Park in 1991. A reception and gallery talk with Nicole is on Jan. 12 at 12 p.m. in the LSC-Kingwood's Fine Art Gallery.
After selling her home in Houston a few years ago, Nicole moved to Uganda and started The Redemption Song Foundation, a nonprofit organization designed to support the Batwa and Bakiga peoples in the region. Her life now is intertwined with the Batwa people and capturing their lives on film. The Batwa are one of several native groups who live on the fringes of Uganda's Impenetrable National Park.
"Over the past two years, I have pointed my camera toward scenes and people in Southwest Uganda, where I have become enthralled with the lovely Batwa people. These indigenous hunter-gatherers lost their homelands to the national park that was created to protect critically endangered mountain gorillas," Nicole said. "Documenting how the village that I work with has changed since I first visited brings joy to my life."
"The Edge of Eden" art exhibit is a collaboration between Nicole's photography and Dr. Brian Shmaefsky's environmental science class at LSC-Kingwood. Approximately 50 students viewed, sorted and edited hundreds of photographs and hours of video.
"The credit for this show belongs to these industrious and passionate students for making an enormous task possible. As people say, 'many hands make light work'," said Kristine Larson, gallery director. "The students also waded through hours of video and have come up with a highly professional short movie to educate viewers about the emerging Batwa culture."
During "The Edge of Eden" art exhibit and artist's reception, handmade baskets by the Batwa people will be on sale. All proceeds will go toward funding the Redemption Song Foundation. For more information on the nonprofit organization, visit http://www.redemptionsongfoundation.org/.
Nicole is an award-winning freelance writer and photographer. She has been published in Nature, National Wildlife and Environmental Health journals; OnEarth, Scientific American, Smithsonian, and Audubon magazines, among others; as well as Discovery Channel and Animal Planet online and National Public Radio's (NPR) "All Things Considered". Nicole has a Master of Science degree in Wildlife Ecology and a Master of Arts degree in Evolutional Biology. For the past two decades, she has written about wildlife, conservation, environmental health, outdoor travel, and science and faith issues.
The LSC-Kingwood Fine Art Gallery is open Monday-Thursday from 10 a.m.-3 p.m. It is located in the Performing Arts Center (PAC). For more information on gallery events, email kc.artgallery@lonestar.edu or visit http://www.lonestar.edu/arts-kingwood.htm.
Register now for credit classes online through myLoneStar. Classes are offered days, evenings, or weekends in traditional, Internet, video, TV and independent study formats. For more information on how to register online, visit www.lonestar.edu/registration.
For general information about Lone Star College-Kingwood, call 281.312.1600 or visit http://lonestar.edu/kingwood.htm
Lone Star College offers high-quality, low-cost academic transfer and career training education to 98,000 students each semester. LSC is training tomorrow's workforce today and redefining the community college experience to support student success. Stephen C. Head, Ph.D., serves as chancellor of LSC, the largest institution of higher education in the Houston area with an annual economic impact of $3.1 billion. LSC consists of six colleges, eight centers, two university centers, Lone Star Corporate College and LSC-Online. To learn more visit LoneStar.edu.
###