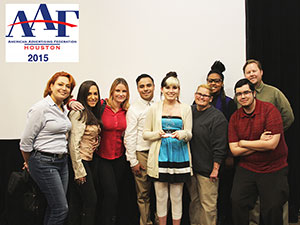 LSC-Kingwood's Visual Communication students entered and succeeded in the 35th annual American Advertising Federation (AAF) of Houston's Student Conference and Competition. Pictured are Zoila Donneys-Hale, professor; students Valentina Gomez, Jennifer Scott, Fernando Orozco, Hunter Landrum, Jennifer McGregor, and Scott Leonard. In the back are student Alexus Golden, student; and Shawn Sedoff, professor.
Community college students who compete and win against four-year university students are a testament to the quality of education they receive.
In the fall, eight Lone Star College-Kingwood visual communication students joined 182 four-year college students at the 35th annual American Advertising Federation (AAF) of Houston's Student Conference and Competition. Hunter Landrum, a LSC-Kingwood student, was part of the first place team. She was awarded a trophy and recognition from the AFF. In addition, all LSC-Kingwood students earned favorable reviews for their work.
"Hunter was one of three graphic designers on the winning team. Also, the feedback that she and the other students received was 'outstanding'!" said Shawn Sedoff, visual community professor at LSC-Kingwood. "Professor Zoila Donneys-Hale and I are extremely proud of all our students. We were the first community college to compete in the competition's 35th history and our students represented LSC-Kingwood in a professional way!"
The students were split into 17 different teams, none paired with their classmates, and were charged with creating a marketing and advertising campaign to promote the Houston Museum of Natural Science's Mixers and Elixirs charity event. In addition to Landrum, other students who participated were Fernando Orozco, José Alvares, Alexus Golden, Jennifer McGregor, Jennifer Hunter, Scott Lerner and Valentina Gomez.
"Our students demonstrated that they are not only ready for the higher demands of careers in graphic design, but that the LSC-Kingwood program is a complete and up-to-date program that is competitive with four-year colleges and universities in Houston and the USA," Donneys-Hale said.
People interested in learning or honing their skills to work in the visual communication field are encouraged to register for the program at LSC-Kingwood. The Visual Communications program teaches students skills needed for careers in commercial art and design, desktop publishing, multimedia development, web design, 3-D animation, video and post production. Students can earn an Associate of Applied Science Degree and six certificates specializing in the fields of visual communication.
"From the few core classes I completed over the summer, to the degree-specific courses I took in the fall, I have been extremely impressed with the professors and curriculum at LSC-Kingwood. I feel that the classes move at a good pace and level that allows for more advanced students to excel, and also gives individual attention to those that need it," said Jennifer Scott, a graphic design student who plans to graduate in May 2017.
Students in the program will not only learn the skills needed to use the latest industry software, they will also develop their design and conceptual skills through real world activities and events such as Design-a-Thon, Visual Communication Student Art Show, It's-a-Wrap Media Fest and mock portfolio shows. Near completion of their degree, students are eligible to do an internship at LSC-Kingwood's in-house graphics program, Designs in Print.
"I highly recommend LSC-Kingwood's Visual Communication program. The professors seem passionate about the students' success. It also provides opportunities for students to participate in various competitions with peers from different college and universities, which provides insight into the real world applications of our degrees," Scott said. "I live almost an hour away, but the experience is well worth the drive."
LSC-Kingwood's Visual Communication program is deemed one of best in Houston. Graduates are skilled to work in a variety of industries including advertising, consumer products, education, entertainment, government, legal, manufacturing, medical, petroleum, publishing, transportation and video production.
For more information on the Visual Communication program, visit http://www.lonestar.edu/visual-communications-dept-kingwood.htm.
Register now for credit classes online through myLoneStar.  Classes are offered days, evenings, or weekends in traditional, Internet, video, TV and independent study formats. For more information on how to register online, visit www.lonestar.edu/registration.
For general information about Lone Star College-Kingwood, call 281.312.1600 or visit http://lonestar.edu/kingwood.htm.
Lone Star College System has been opening doors to a better community for 40 years. Founded in 1973, LSCS remains steadfast in its commitment to student success and credential completion. Today, with 78,000 students in credit classes, and a total enrollment of more than 90,000, Lone Star College System is the largest institution of higher education in the Houston area and the fastest-growing community college system in the nation. Dr. Stephen C. Head is the chancellor of LSCS, which consists of six colleges including LSC-CyFair, LSC-Kingwood, LSC-Montgomery, LSC-North Harris, LSC-Tomball and LSC-University Park, five centers, LSC-University Center at Montgomery, LSC-University Center at University Park, Lone Star Corporate College, and LSC-Online. To learn more visit LoneStar.edu.
###