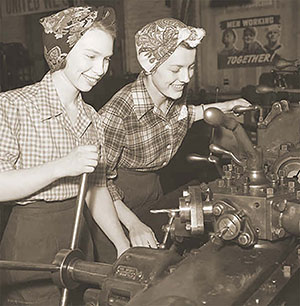 LSC-Kingwood invites the community to discuss women's rights at its fourth annual History Day Conference.
Students, teachers, professors and community members are invited to Lone Star College-Kingwood's fourth annual History Day Conference on Thursday, June 23 from 7:45 a.m.-3 p.m.
"American Women: The Quest for Equal Citizenship" is an interactive and thought provoking conference for anyone interested in the examination of women's rights in history and how to teach it. Participants will also receive resources needed for instruction. This year's conference is sponsored by LSC-Kingwood's Center for Civic Engagement. It will be held in the Performing Arts Center (PAC).
"In addition to talking about this important topic and providing resources, our goal is to deepen relationships between the independent school district instructors and the college instructors," said Kimberly Klepcyk, dean of academic partnerships and initiatives at LSC-Kingwood.
The conference format includes morning presentations by distinguished authors and afternoon break-out sessions discussing primary sources. Presenters are Sally McMillen, Davidson College professor, on "Seneca Falls and the Origins of the Women's Rights Movement; Stephanie Kelly and Peggy Lambert, LSC-Kingwood history professors, on "The Fly Girls in World War II"; and Debbie Harwell, University of Houston professor and Kingwood resident, on "Wednesdays in Mississippi: Proper Ladies Working for Radical Change, Freedom Summer, 1964".
"Women's History is very important. I hope people will understand the struggle and no longer assume women have always had equal rights and opportunities," McMillen said.
According to Harwell, this conference will shed an untold light of the Civil Rights movement. She will speak on Wednesdays In Mississippi (WIMS), a little known civil rights project initiated in 1964 to bring interracial and interfaith teams of northern middle-class women to Mississippi to meet with their southern counterparts. This project opened lines of communication across race and religion.
"Every day we learn more about the untold stories of past and each of those add to the larger mosaic," Harwell said. This knowledge helps us to make better decisions, to avoid repeating mistakes, to build on our successes, and, hopefully, to be more accepting of our fellow man."
LSC-Kingwood's history professors' presentation on "The Fly Girls in World War II" will explore the role women played as pilots during World War II in a group known as the Women's Air Force Service Pilots (WASPs).
"The role of women in the military has greatly expanded in the last few decades, and one of our goals is to show how women have a long and remarkable record of serving the nation," Kelly and Lambert said. "Their record has been significantly underappreciated by historians and, in many cases, forgotten about in the current debates about women in the military."
Admission to the "American Women: The Quest for Equal Citizenship" Conference is $35 for the general audience and $5 for students if they register before June 15. The entrance fee increases to $45 for the general audience and $10 for students who register after June 15. Current college id is required for students. The cost includes a continental breakfast, lunch and a gift bag. Teachers whose registration fee will be paid by their local independent school district by check must contact Nancy Parks at Nancy.B.Parks@LoneStar.edu.
To register for the conference, visit http://tinyurl.com/LSCKWAmericanWomenConf. The deadline to register is June 21. For questions about online registration or on the conference, email Nancy.B.Parks@LoneStar.edu.
Register now for credit classes online through myLoneStar.  Classes are offered days, evenings, or weekends in traditional, Internet, video, TV and independent study formats. For more information on how to register online, visit www.lonestar.edu/registration.
For general information about Lone Star College-Kingwood, call 281.312.1600 or visit http://lonestar.edu/kingwood.htm.
Lone Star College System has been opening doors to a better community for 40 years. Founded in 1973, LSCS remains steadfast in its commitment to student success and credential completion. Today, with 78,000 students in credit classes, and a total enrollment of more than 90,000, Lone Star College System is the largest institution of higher education in the Houston area and the fastest-growing community college system in the nation. Dr. Stephen C. Head is the chancellor of LSCS, which consists of six colleges including LSC-CyFair, LSC-Kingwood, LSC-Montgomery, LSC-North Harris, LSC-Tomball and LSC-University Park, five centers, LSC-University Center at Montgomery, LSC-University Center at University Park, Lone Star Corporate College, and LSC-Online. To learn more visit LoneStar.edu.
###