LSCS Presidents
|
LSC-North Harris President
|
Foundations of Excellence (FoE)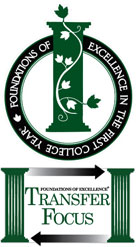 While the primary focus of FoE is academic excellence, we were able to provide our students with a strong foundation of support services for their first year.
As we continue to evaluate support services through our BEST START Quality Enhancement Program (QEP), Completion by Design (CBD), and Strategic Planning, we will continue to provide excellence as we reach record enrollments.

In 2010, the FoE Gardner Institute offered two-year institutions an adapted version of its FoE program that gave them the opportunity to evaluate their approach to serve transfer-bound students.
We are fortunate again to be selected to participate in a process to expand on better serving our transferring students.


The Dimensions for the FoE Transfer Focus rest on five assumptions:
The academic mission of an institution is preeminent.
For many two-year institutions, the successful preparation of transfer students is central to mission attainment.
The role of two-year institutions in facilitating student transfer is critical to the achievement of national goals for educational attainment.
Systematic evidence provides validation of the Dimensions.
Collectively, the Dimensions constitute an ideal for improving not only the transfer student transition, but also the entire undergraduate experience.
Dr. Steve Head, Ph.D.
LSC-North Harris President