LSCS Presidents
|
LSC-North Harris President
|
North Harris President's Profile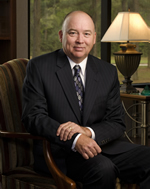 Dr. Steve Head has served as the President of Lone Star College-North Harris, one of the six colleges in the Lone Star College System, since January 2008. Dr. Head has been employed at LSCS since 1984 and has held a variety of positions, including President of Kingwood College from 1991-1999 and Executive Vice Chancellor of the system from 1999-2008.
Lone Star College System (LSCS) is the second largest and fastest growing community college system in the state with credit and workforce enrollments nearing 100,000 each semester.
Dr. Head is active in community college affairs, serves on several state and national committees, is a frequent presenter at professional conferences, and has written several articles on community college issues. He is involved in community, civic and economic development issues in the region, and has held a number of leadership roles in regional organizations.
Dr. Head currently serves on the board of directors for the Greenspoint Tax Increment Reinvestment Zone (TIRZ) and Greenspoint Management District. He also is on several national advisory boards that work on community college issues.
Dr. Head's focus at Lone Star College-North Harris has been to expand opportunities for students, increase support and resources for teaching and learning, maintain high quality academic and workforce programs, and create community partnerships that add value and economic growth to north Houston. During his tenure as president at LSC-North Harris, the college has grown over 75% and added almost 250,000 square-feet of new facilities. The most noteworthy of these projects is the new LSC-Victory Center located in the Acres Homes community and the LSC-Health Professions Building in the 1960/Spring area.
He is especially interested in close ties with Spring ISD and surrounding communities because he recognizes that these partnerships benefit the students and strengthen our region..
His academic background includes a Ph.D. in History from Texas Tech University. He frequently teaches higher education classes for Sam Houston State University's Educational Leadership doctoral program, and a variety of history classes for LSCS and partner universities.