LSC-Kingwood Nursing Department
Vocational Nursing
Always in high demand, licensed vocational nurses provide a wide variety of essential patient care, under the supervision of a registered nurse or physician. Graduates are eligible for licensing as an LVN and typically pursue careers at hospitals, long-term facilities, clinics, and other healthcare facilities.
Associate Degree Nursing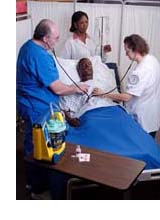 Combining the art of caring with the science of nursing, the Associate Degree Nursing (ADN) Program is one of the most in-demand, high-growth career tracks in the industry. Graduates are eligible to become a registered nurse (RN), providing and coordinating care for patients in a variety of healthcare settings. Two options are available to achieve an ADN at LSC-Kingwood. Students can earn their ADN in the Transition program which is designed to transition LVN and Licensed Paramedic (LPM) in earning their ADN. An ADN is also achievable through the Basic Track program, a two-year program designed for students with no previous nursing or paramedic education.
LSC-Kingwood Nursing Programs is fully approved
Texas Board of Nursing
333 Guadalupe Street, Suite 3-460
Austin, TX 78701
LSC-Kingwood Associate Degree Nursing Program is accredited by
Accreditation Commission for Education in Nursing
3343 Peachtree Road NE, Suite 500
Atlanta, GA 30326
Information Sessions
In order to assist you in your learning more about nursing as a career and the particular requirements of the Associate Degree, Vocational Nursing, and LVN/Paramedic transition programs, nursing information sessions are held throughout the year.
We strongly encourage you to attend an information session to learn more about the profession and requirements of each of the nursing programs. No reservations are needed to attend an information session on the LSC-Kingwood campus. Each session lasts about one to two hours.
Information Sessions
Feb 6th, 1:00 p.m., LSC-Kingwood, SIB 112
Mar 6th, 5:00 p.m., LSC- Kingwood, SIB 112
Apr. 3rd, 1:00 p.m., LSC- Kingwood, SIB 112
May 1st, 5:00 p.m., LSC- Kingwood, SIB 112
June 5th, 1:00 p.m., LSC- Kingwood, SIB 112
July 10th, 5:00 p.m., LSC- Kingwood, SIB 112
Aug 7th, 1:00 p.m., LSC- Kingwood, SIB 112
Program Outcomes
Result
Lone Star College Kingwood – ADN Program Outcomes
2018
ACEN 6.2 Texas BON – NCLEX Pass Rate
Expected Level of Achievement (ELA): – a score at or above state & national levels
Official Lone Star College Kingwood Rate: 94.96%
National Rate: 88.56%
Texas Rate: 91.62%
ACEN 6.3 Program completion
ELA: 70% of the students will complete the program in 150% of the time.
Basic Track: 72%
Transition Track: 82.5%
ACEN 6.4 Job placement
ELA: 80% of the graduates will report securing a job in nursing at the time of the new grad survey

ADN & Transition
Basic Track: 97.1%

Transition Track: 100%report jobs within nursing or enrollment in BSN completion program