Open House: LSC-North Harris
Schedule of Events
4:00 - 7:00pm
Event Check-In
Student Services Building (SSB), Atrium 1st Floor.
Open House Fair
Student Organizations - SSB Conference Center, 1st Floor
Student Services, Academic Majors, Degree Options, and more - SSB Conference Center, 2nd Floor

Meal tickets may be redeemed in the LSC-North Harris Cafe throughout the evening.
Campus Tours
Student Services Building - Welcome Center
Tour Times: TBA
6:45 p.m.
Grid Game Prize Drawing*

*Grid Game prizes include Houston Rockets tickets, Sam Houston Raceway Concert Series tickets and a tablet computer.
Attendees will also be eligible for LSC-North Harris Scholarship drawings: 
TWO $300 scholarships for two part-time students
TWO $700 scholarship for two full-time students

Sign up for scholarship drawing by filling out a "Check-In Form" at the Registration and Check-In table located in the SSB Atrium, 1st floor before 6:45 p.m. Scholarship winners will be notified by phone. Scholarship winners must be new to LSCS and enrolled in 6-12 credit hours at LSC-North Harris, LSC-Greenspoint Center or LSC-Victory Center during the summer or fall 2014 semester. Winners do not have to be present to win.
Location
View Larger Map
Campus Map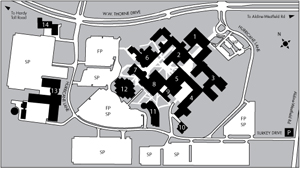 Download the Campus Map
Library (LIBR)
Academic Building (ACAD)
Winship Building (WNSP)
Instructional Education (INED)
Student Center (STSC)
Fine Arts (ARTS)
Continuing Education (CMED)
Health and Wellness (HPE)
College Bookstore (CBST)
Energy Training Center (ERTC)
Digital Technology Center (DTC)
Student Services (SSB)
Applied Technology Center (ATC)
Child Development Center (CDC
SP - Student Parking
FP - Faculty Parking
VP - Visitor Parking
P - Police