Office of Research and Institutional Effectiveness (ORIE)
NEW! IE Success Stories
Open the link in the Resources box on the right for IE Success Stories.
About ORIE
ORIE consists of three departments, Institutional Research (IR), Institutional Effectiveness (IE), and Enterprise Reporting Services (ERS). Below is a diagram depicting our office and the tasks associated with each area. You will notice a spot in the center where the areas overlap. This zone is critically important, it represents the zone of potential synergy where the efficiency of automated reports (ER) meets with the talents of analysts who can aid in their interpretation (IR) as well as an infrastructure that promotes planning, action and measureable results (IE). When combined, these areas foster a culture of continuous improvement, increased learning, student success and benefits to the community overall.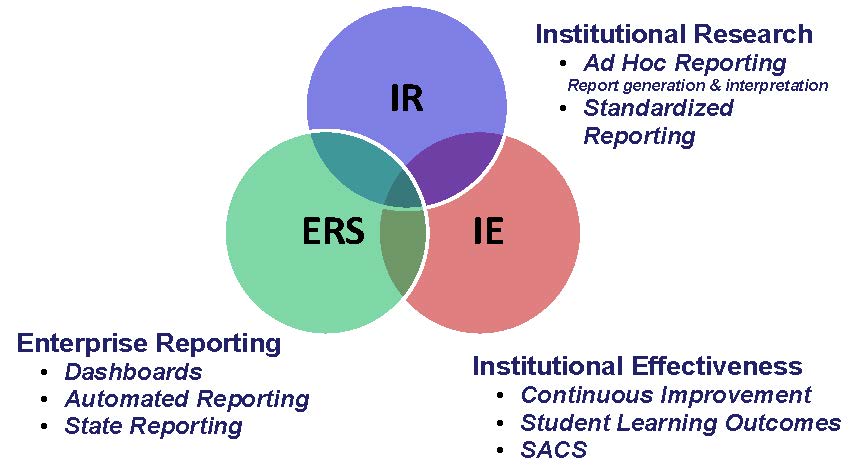 Mission
The mission of the Office of Research and Institutional Effectiveness (ORIE) is to promote a culture of continuous improvement and data-informed decision making by:
Leading the institutional planning, assessment, and effectiveness processes
Providing timely, accurate, objective, and clear reporting to internal and external stakeholders
Coaching stakeholders for report interpretation and context
Collaborating with other institutions in pursuit of best practices in planning, assessment, and institutional research
Vision
ORIE will be nationally recognized as a leader among 2-year institutions in fostering a culture of data-informed decision making and continuous improvement. (e.g., Aspen Award)
ORIE Newsletter - New!
ORIE Contacts