Office of Technology Services
|
Customer Service
|
Product Support
|
Telephone and Voicemail
Lone Star College System uses a Voice-over-IP (VoIP) phone system which allows voice conversations to be transmitted over the Internet. The be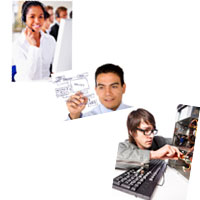 nefits of this system include, but are not limited to: reduced infrastructure costs, improved security and integration with other services, like e-mail.
Most full-time employees are provided with a voicemail account. If you are an adjunct faculty or full-time employee without a voicemail account, you may request one through the Voicemail Account Request Form. Once your account is created, the Service Desk will send you login information and directions on how to access voicemail from home.
Please contact the Service Desk at OTS@lonestar.edu or 832.813.6600 if you have any questions or need assistance using your IP phone.

Long Distance Codes

Each Friday morning (Thursdays in summer), an automated process is run that issues long distance codes (LDC's) for all new PERM full-time employees who have been entered into the HR module of Colleague from a PAR during that past week. LDC's are sent that afternoon (via email) to the new employee noting that the code takes 3-5 days to be activated by the long distance provider. The process allows for all LD calls to be charged to the telephone budget code (7505) associated with the person's HR pay code.
All other types of employees (TEMP* full-time, part-timers, adjunct and student workers) must have their supervisor request an LDC in an email to the vice president of Administration on their campus. The college's vice president (or their designees) will forward the email on to Diana. On Friday mornings, a manual process is run that generates LDC's for these types of employees. In addition, a list of terminated employees is generated each week after a termination PAR has been processed in the HR module of Colleague. If an employee is not terminated in Colleague, the LD code remains active.
If all the paperwork is completed/processed in HR (a PAR entered into Colleague), the employee should receive notification of the LDC by Friday afternoon. An LDC will not be issued if all paperwork is not entered into Colleague. ALL employees are expected to have their own LDC and should not be sharing codes with other employees.
If an employee is transferred from one location to another district location, s/he will keep the same LDC throughout his/her employment at NHMCCD. The monthly billing process looks at the HR pay code (which has locations) for each call on each date to know where to bill the call(s).
If an employee does not apply for an LSCS email account (your.name@lonestar.edu), the email notification cannot be sent, but the LDC will still be generated. If an employee does not receive his/her LDC within a week of PERM employment or through request from his/her vice president's office, please notify Diana as the notification is not automatically resent without a request.
Each employee will receive an itemized monthly statement of LD calls (if any) from the vice president's office on his/her campus.
* TEMP full-time employees are usually less than the 10.5-month contracted faculty or grant paid staff.