About Us
Our chapter name is Alpha Rho Mu.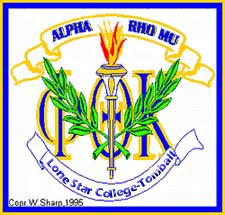 The colors of the Society are blue and gold. Blue symbolizes scholarship and Gold represents purity.
The flower of the Society is the white rose. It symbolizes new intellectual friendships within our prestigious Society.
The handshake of the Society is the hug. Started by Margaret James Mosal, this is a courteous and friendly gesture when meeting new Phi Theta Kappa members.
"The purpose of Phi Theta Kappa shall be to recognize and encourage scholarship among two-year college students. To achieve this purpose, Phi Theta Kappa shall provide opportunity for the development of leadership and service, for an intellectual climate for exchange of ideas and ideals, for lively fellowship for scholars, and for stimulation of interest in continuing academic excellence."