Piano Super Saturday directed by Dr. Sergey Kuznetsov and hosted by the Music Club
Piano Super Saturday is an all about piano annual event directed by Dr. Sergey Kuznetsov, a piano faculty at Lone Star College-Montgomery. Join for a full day of piano including workshop, presentation, guest artist, master class, young artist recital, and an open discussion. Join us Saturday, April 1, 2017 in the Lone Star College-Montgomery Recital Hall (Bldg. H).
 10 am - 12 pm

PIANO WORKSHOP (open to everyone)

 12 pm - 1 pm

COSTA RICA PIANO FESTIVAL PRESENTATION (presentation by Lanzo Luconi, Executive Director Costa Rica Piano

www.costaricapianofestival.com

1 pm - 2 pm

 Lunch   /   LSC-Montgomery will be providing food and refreshments

 2 pm - 3 pm

 GUEST ARTIST RECITAL  (Andrey Ponochevny)

 3 pm - 4 pm

 MASTER CLASS (Andrey Ponochevny)

 4 pm - 5 pm

 YOUNG ARTIST RECITAL

 5 pm - 6 pm

 OPEN DISCUSSION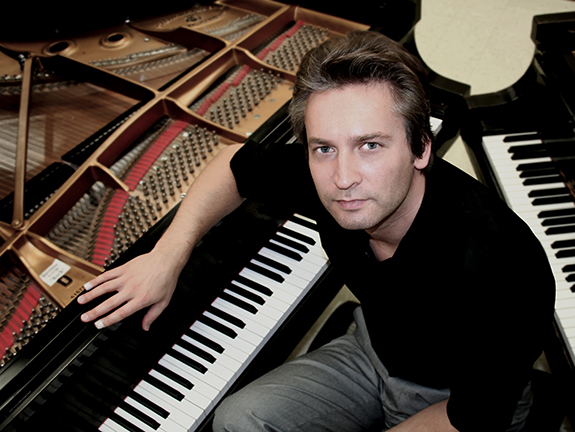 Guest Artist and Master Class-
Andrey Ponochevny's career has encompassed the globe as a preeminent talent among performing artists today. Cleveland's The Plain Dealer has written that "He applied volumes of concentration, fluency and tonal beauty that brought renewed vibrancy to works by Schubert, Chopin and Brahms. … His performance seized attention from first note to last." Additionally, The Washington Post describes his playing as "with power and finesse that brought the audience to its feet in a long standing ovation."

As the Bronze Medal Winner of the 2002 International Tchaikovsky Competition in Moscow, Ponochevny has proven success in competition. Other awards and prizes he has earned include First Prize at the William Kapell International Piano Competition in Maryland as well as at the Tomassoni International Piano Competition in Cologne. His other competition accolades include awards at international competitions in Prague, Warsaw (Chopin), Dublin, Moscow, Hong Kong, Riga (Latvia), Alexandria (Louisiana), and New Orleans. As a reflection of his extensive competition achievements, he was honored as the featured pianist at the General Assembly of the World Federation of International Music Competitions in Washington, DC.

In the concert hall, Ponochevny has garnered equal success, having performed extensively in North America, Europe, and Asia. He has given solo recitals at major venues including Lincoln Center and Carnegie Hall in New York City, The Kennedy Center and Phillips Collection in Washington, DC, Preston Bradley Hall in Chicago and Cleveland Institute of Music. He has been featured in Europe and Asia at major venues including the Beethovenhalle in Bonn, Philharmonie in Cologne, City Hall in Hong Kong, Palacio de Festivales de Cantabria in Santander, Salle Alfred Cortot in Paris, the Forum in Ludwigsburg, National Philharmonic Hall in Warsaw, Stadtkasino in Basel, Grand Opera Hall, Harbin.

Ponochevny's appearances with orchestra include performances with the Baltimore Symphony Orchestra, Louisiana Philharmonic, Des Moines Symphony, Irving Symphony, Plano Symphony, East Texas Symphony, Rogue Valley Symphony, Illinois Symphony, Nashua Symphony, Warsaw Philharmonic, Tianjin Symphony, Xinjiang Philharmonic, Orchester der Ludwigsburger Schlossfestspiele, and the Belarusian State Symphony among others.

His concerts have been broadcast on WGBH Boston, WQXR New York, WFMT Chicago, WDR Cologne (Germany), Kultura Minsk (Belarus), SIRTVS Ljubljana (Slovenia), ROROR Bucharest (Romania), AUABC Adelaide (Australia), and DKDR Copenhagen (Denmark).

Ponochevny has performed at many prestigious festivals including the Ruhr Klavier Festival,  the International Keyboard Institute and Festival in New York City, the International Ludwigsburg Festival, Serie de los Nuevos Virtuosos in Puerto Rico, Bravissimo Festival in Guatemala City, Changchun International Festival in China, and Music in the Mountains Festival in Durango, CO.

Among his numerous awards, he was twice named "Outstanding Artist in China" (2009 and 2011) in addition to having been given the positions of "Honorable Professor" of Jilin College of Arts (China) and "Visiting Professor" at the Beihua University (China). In his hometown of Minsk (Belarus), he was awarded the title "Minskovite of the year" in 2002.
Ponochevny graduated from Belarussian Academy of Music where he received his Bachelor and Master degrees. He also holds the Artist Diploma from Texas Christian University in Fort Worth where he studied with Tamás Ungár as well as the Artist Certificate from Southern Methodist University in Dallas, having studied with renowned pianist Joaquín Achúcarro.  



In addition to his concert career, Ponochevny serves on the teaching faculty of University of Dallas.